All Saints, Leek Road (SE). By Gerald Horsley, 1910-13. Brick, without a tower. The S aisle has not yet been built. Clerestory and aisle windows differ, not only in pattern, but also in style - i.e. 1910 carried its antiquarian learning lightly.
Picturesque NE vestry. An open-air pulpit on the W wall of the nave. Impressively high interior with boldly wide chancel arch. Nice openings from chancel to N chapel.

All Saints Church, Joiners Square
---
St. Jude, College Road (SW). 1898-1901 by R. Scrivener & Son. Large, of brick, without a tower, but with facade turrets. Polygonal S baptistery.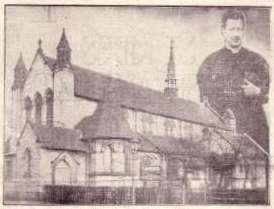 Photo of St. Jude Church and Rev R. A. Lord
from St. Jude's Parish magazine of April 1958
- church now demolished -


---
St. Luke, St Luke Street (ESE). 1852-4 by H. Ward & Son.

St. Luke's (Wellington):
The parish church of Wellington is St. Luke's, which was erected in 1854. It is an imposing structure in the Early English style, comprising chancel, nave, north aisle, and north and west porch, the latter having been added in 1878; there is also an incomplete tower. In 1847 an organ chamber was built, and an organ introduced, the church at the same time being reseated at a cost of £900. The church contains a handsome stained glass window, erected in 1878 to the memory of Bishop Selwyn. In 1887 a new reredos was introduced. There are 800 sittings, 477 being free.
[from: A descriptive account of The Potteries (illustrated) 1893 advertising and trade journal.]

on St. Luke's
---
St Mark, Snow Hill (S). Another of the large Commissioners' churches built about 1830 outside the centres of the growing pottery towns. 1831-3 by J. Oates. W tower with thin steep doorway and large lancet bell-openings. Nave with lancets, thin buttresses, and battlements. The church cost nearly £10,000.
The polygonal chancel is by Scrivener, 1868. Interior with galleries. - REREDOS. Three large terracotta reliefs by George Tinworth, 1896.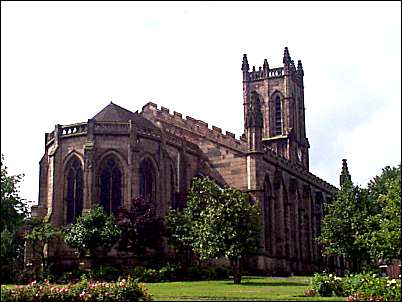 St. Mark's Church, Shelton, Hanley
Broad Street,
Collage Road, Wood Terrace, Fletcher Street
photos - 2000
St. Mark's church stands on a prominent site in Shelton and its 120 foot (36.5 metre) tower is a landmark for miles around.

on St. Mark's

---
St. Matthew, Etruria (W). 1848-9 by H. Ward & Son, a commissioners' church. Only part remaining.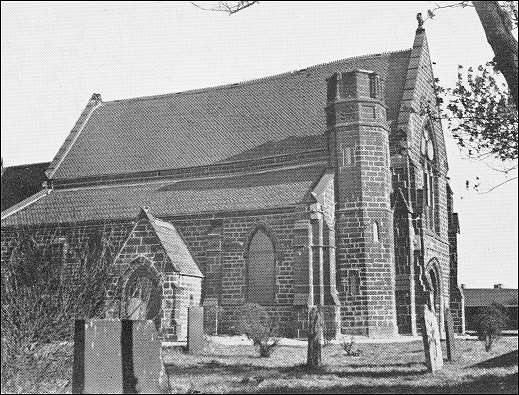 The Church of St. Matthew, Etruria
taken 1948 by E.J.D. Warrillow
- now demolished -

on St. Matthew's
---
Holy Trinity, Lower Mayer Street (NE). 1848-9 by J. Trubshaw. Yet another commissioners' church (price £2,714).
N steeple with broach-spire. Paired lancets, short chancel.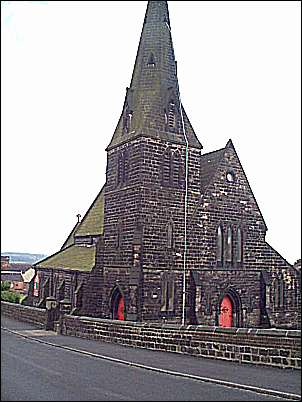 Church of the Holy Trinity
Lower Mayer Street, Northwood, Hanley

on Church of the Holy Trinity