Location and period of operation:
| | | | |
| --- | --- | --- | --- |
| Burgess & Goddard | Longton | c.1840's | 1890's |
BURGESS & GODDARD, IMPORTERS (USA)
LANE END
LONGTON
c.1840s - 1890s

This company traded under the name of Burgess & Goddard in USA and under the name of Goddard & Burgess in Longton, Staffordshire, England.

History:
Goddard & Co. (manufacturers) Commerce St. Lane End, Longton c.1840-1848
Goddard, Dale & Burgess (exporters) 32 Church St. or Stafford St. Longton c.
1848-1858
Goddard & Burgess (exporters) 32 Church Street or Stafford St. Longton c.
1858-1890.



It was the Burgess side of the partnership that managed the USA side of the business. In 1879 William Burgess and John Campbell purchased the International Pottery Co. in Trenton, New Jersey.

Burgess & Goddard traded as importers of earthenware's and represented such firms as John Edwards, Wedgwood & Co., S. Bridgwood & Son in the USA.

Sources :
Ewins, Neil "Supplying the present wants of our yankee cousins"
Journal of Ceramic History v15 1997 p.105-127 (details of John Hackett Goddard
and his activities)

Kowalsky: Encyclopedia of Marks on American, English and European
Earthenware, Ironstone and Stoneware
Initials used on ware for identification:
BURGESS & GODDARD
ROYAL PATENT
IRONSTONE
---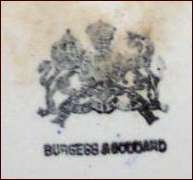 cobalt blue featheredge white ironstone plate is 8 3/4 inches in diameter
---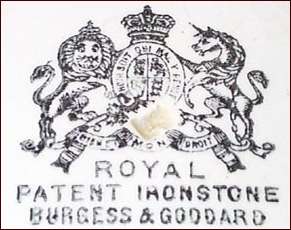 Burgess & Goddard British Handleless
Ironstone Cup and Saucer
Saucer 6" Cup 3" Tall x 3 1/2" Dia
---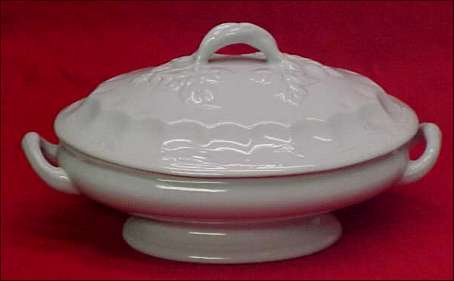 White Ironstone Tureen
Lid is designed with wheat, leaves, and berries.
Measures 11 1/8" handle to handle.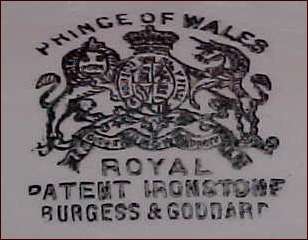 Prince of Wales
Royal Patent Ironstone
---
email: Steve Birks