| | |
| --- | --- |
| Charles Amison (and Co Ltd) | |
Location and period of operation:
Charles Amison (and Co Ltd)

Longton

1889
(est. 1875)

1962
China manufacturer at the Stanley China Works, Longton, Stoke-on-Trent

The business was Charles Amison to c.1916, Charles Amison & Co. c.1916-1930 and then in around 1930 it became a Limited Company.

In the early years they produced crested souvenir ware. Most of the output was tea sets and floral china.

From 1941 to 1945 the factory was closed under the wartime concentration scheme.

In 1951 the Amison family sold the business - the new owners were Victor Wooldridge, Joseph Austin and H Hulme who were associated with the Floral China Co. Ltd.

The ill-health of the directors led to the Amison business to close in 1962. The moulds and patterns for the floral ware was purchased by the Longton New Art Pottery Co. Ltd.
Previously: Amison & Lawson
/
in the early years of their operation Charles Amison produced
crested souvenir ware
probably 1889 - 1910 period
---

teas set in the CHINESE pattern
---

cup and saucer with the 1930-41 mark
produced pre World War II
---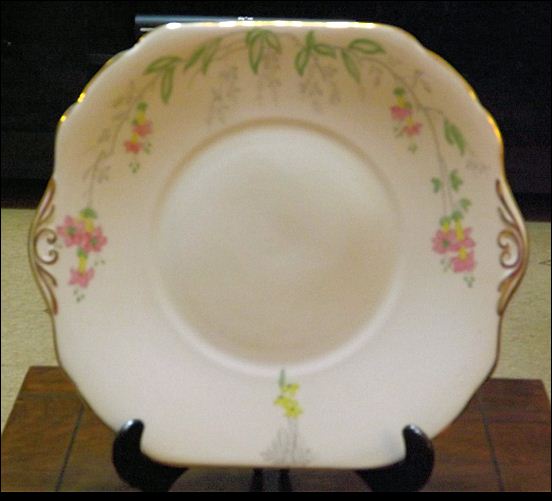 side plate with the 1949-53 mark
produced post World War II
---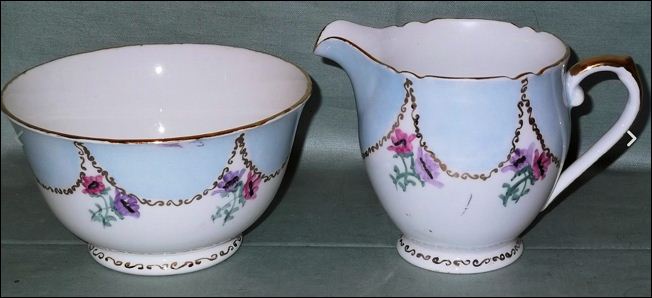 sugar and milk set - hand painted by Mary Foster and dated 1953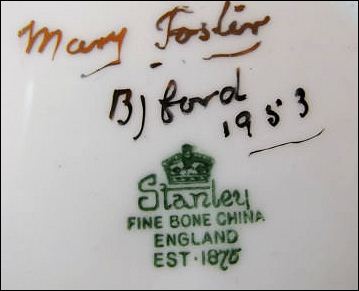 ---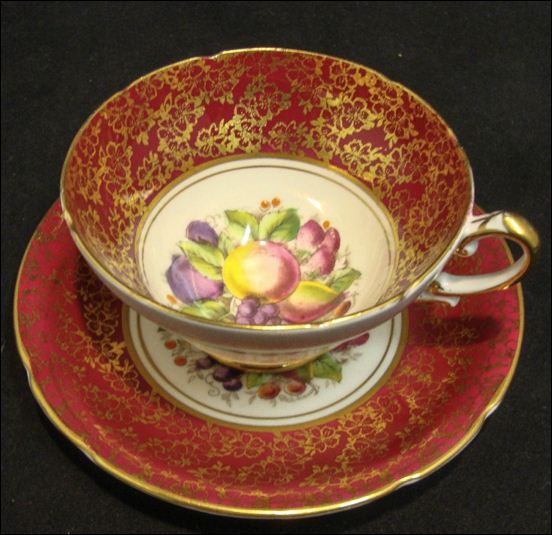 cup and saucer with the 1953-62 mark
---

Marks used on ware for identification:
Early ware was marked with the intials C.A.L. - CA for Charles Amison and L for the town of Longton where the factory was situated.

Most marks include the name Stanley and a crown.

From 1951 the trade name 'Staffordshire Floral Bone China' was introduced.
C A
L
early impressed mark
1889+
'L' stands for the town name LONGTON
---

Stanley China
C.A.
L
c. 1889-1906
mark appears on crested ware
---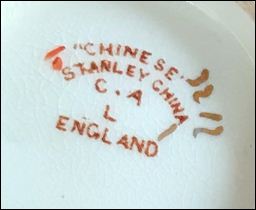 'CHINESE'
Stanley China
C.A.
L
ENGLAND

c. 1891-1906
ware after c.1891 for export was
marked ENGLAND
---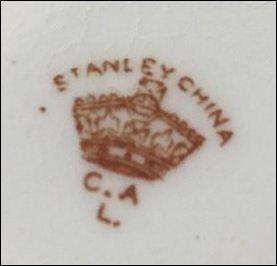 Stanley China
C.A.
L
c. 1906-30
'L' stands for the town name LONGTON
---

Stanley China
ENGLAND
c. 1930-41
---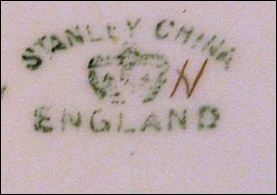 Stanley China
ENGLAND
probably c. 1930-41
mark appears on crested ware
---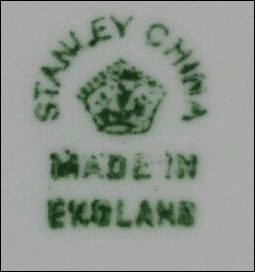 Stanley China
MADE IN
ENGLAND
c. 1946-49
---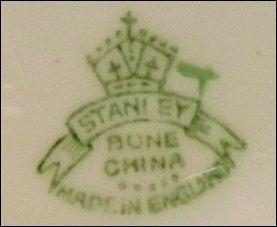 Stanley China
Bone China
MADE IN
ENGLAND
c. 1949-53
---

Staffordshire
FLORAL
Bone China
MADE IN ENGLAND
c. 1951-62
This mark was used on floral china only
The Amison moulds for floral ware were purchased by
the Longton New Art Pottery Co Ltd in 1962
---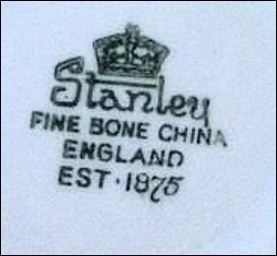 STANLEY
Fine Bone China
ENGLAND
EST 1875
c. 1953-62
Charles Amison was established in 1889 -
the Est.1875 date comes from the earlier
company of Amison & Lawson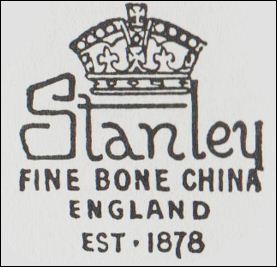 EST 1878
this mark with the Est.1878 date appears in
Godden's Encyclopedia of British Pottery and Porcelain Marks
- it has been copied incorrectly, the date on the mark is often
difficult to read and sometimes the 1875 looks like 1878

---
Stanley Pottery Works

1900 map showing the Stanley Pottery
The Stanley Pottery was situated on Wedgwood Street (in the early 1950's renamed to Amison Street), Longton
to the left, shown in purple, is Anchor Road
in a 1889 and 1892 trade directory the works were called 'Wedgwood Pottery'

entry from..... 1907 Staffordshire Sentinel
'Business Reference Guide to The Potteries, Newcastle & District'

1948 photograph showing the Stanley Pottery (in yellow)
To the left is Anchor Road (purple line) and the light blue rectangle
is the Tuscan Works of R. H. and S. L. Plant Ltd
photo: Britain from Above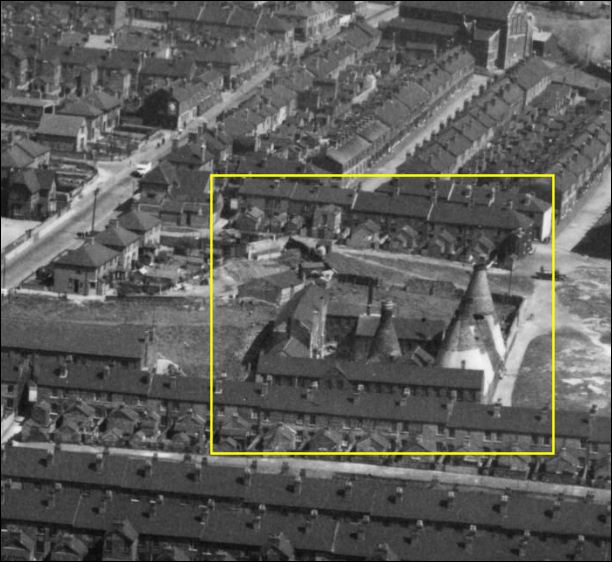 view of the Stanley Pottery showing the three bottle kilns
---
Questions, comments, contributions? email: Steve Birks
---