Location and period of operation:
| | | | |
| --- | --- | --- | --- |
| H J Colclough | Longton | 1897 | 1937 |
China and earthenware manufacturer at the Vale Works, Goddard Street, Longton, Stoke-on-Trent

Herbert Joseph Colclough started business in 1897 and around 1907 moved to the Vale Works in Goddard Street, Longton.

In 1913 King George IV and Queen Mary visited the Vale Works and the company recieved a royal licence and 'Royal Vale' was adopted as a trade name.

In 1937 the businesses of H J Colclough, Thomas Morris and Osborne China Co. were combined and became Colclough China Ltd.
Subsequently: Colclough China Ltd (1937-48)
Marks & initials used on ware for identification:
H J C
L
[these initials used on various marks]
["L" stands for Longton - the town where the factory was situated]
---
ROYAL VALE CHINA
HJC
LONGTON
---
[CROWN ABOVE]
VALE CHINA
MADE IN ENGLAND
H J COLCLOUGH
LONGTON
printed mark 1927-37
---
COLCLOUGH
LONGTON
ENGLAND
BONE CHINA
printed mark 1935-37
---

H J C
L
England
1908-28

---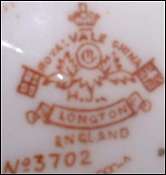 ROYAL VALE CHINA
H J C
LONGTON
ENGLAND
1928-37
NOTE: There is a similar mark to this dated 1908-28
which is same layout with more elaborate and clearer
flags, crown and centre detail.
NOTE: This mark was continued by the new company
Colclough China Ltd from 1937-39
---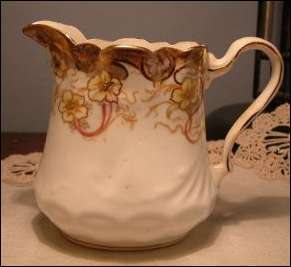 typical H J Colclough ware
---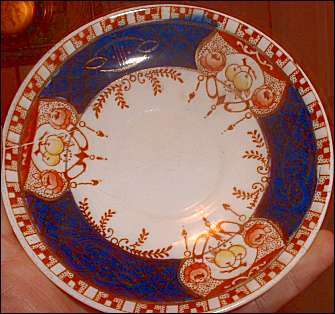 plate - pattern number: 3702
the cups of a 21 piece tea set
has the mark ROYAL VALE CHINA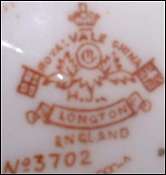 however the plates etc have the mark H H & G Ltd
all of them are the same pattern and all are marked No 3702
H H & G Ltd - Hales, Hancock & Godwin Ltd
who were not pottery manufacturers but were agents and retailers

---
Questions, comments, contributions? email: Steve Birks
---