Location and period of operation:
| | | | |
| --- | --- | --- | --- |
| F J Emery | Burslem | c.1878 | 1894 |
Francis Joseph Emery, earthenware manufacturer mainly at the Bleak Hill Works, Burslem, Stoke-on-Trent, England.
F J Emery was associated with a number of different works and partnerships.....
From 1878 to 1880 F. J. Emery occupied the famous "Churchyard Works" in Burslem, Josiah Wedgwood was born next to these works and was apprenticed to his brother Thomas Wedgwood.
In 1880 Emery moved to the Bleak Hill Works until 1894.
1877 to 1881 Emery was in partnership with Edward Clark at the New Bridge Works, Longport.
"In connection with the Furnival Works, Mr. F. J. Emery of the Bleak Hill Works introduced in about 1865 a method of crayon drawing and painting on the unglazed surface of earthenware and china, which came much in repute, and drawings were made in it by some of the artists as well as by lady and other amateurs. The unglazed articles and prepared crayons and colours were supplied by Mr. Emery, who afterwards became a partner with Edward Clarke at Longport, and proprietor of the Bleak Hill Works."
Source: Jewitt's Ceramic Art of Great Britain 1800-1900
---

F J Emery
Bleak Hill Pottery, Burslem, Staffordshire
Pottery Gazette, October 1880
---
- click picture for more on the works -
---
1881 census:
Dwelling: 222 Waterloo Rd
Census Place: Burslem, Staffordshire, England
| | | | | |
| --- | --- | --- | --- | --- |
| Name | Marr | Age | Sex | | Birthplace | Occupation |
| Francis J. EMERY | W 49 M | Head | Burslem | E Ware Manufacturer & Councillor Employing 50 Men 40 Females |
| Francis EMERY | U 20 M | Son | Burslem | Drapers Assistant |
| Mary EMERY | U 22 F | Daur | Burslem | |
| Edmond J. EMERY | U 13 M | Son | Burslem | Scholar |
| Agnes LEDWITH | U 20 F | Visitor | Autherley | Book Keeper |
| Sarah JOHNSON | U 24 F | Serv | Tunstall | Servant Domestic |

Marks used on ware for identification:
F. J. EMERY
BURSLEM
printed mark with this name
often with the name of the pattern
also often with the place name BURSLEM
marks incorporating the name
"ENGLAND" are c.1891-1894
---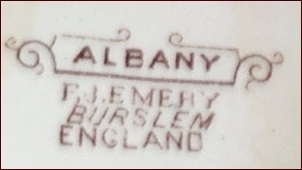 F J Emery mark c.1891-1893
"ALBANY" is the pattern name



selection of ALBANY ware
---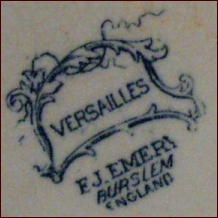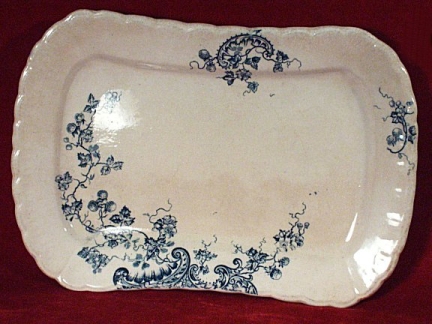 Platter in the Versailles pattern
---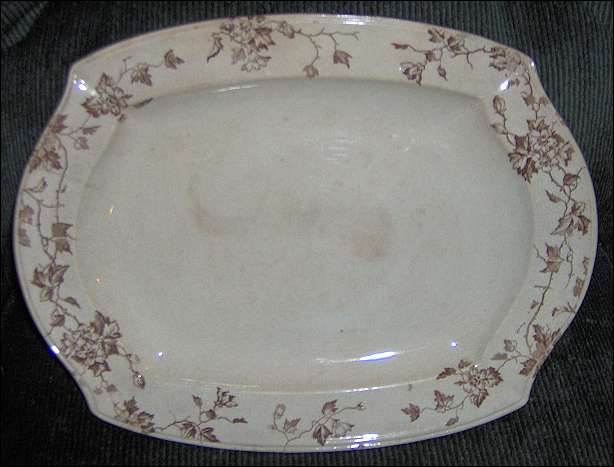 Platter in the ERIE pattern
---

email: Steve Birks