Location and period of operation:
| | | | |
| --- | --- | --- | --- |
| Empire Porcelain Co | Hanley | 1896 | 1967 |
Manufacturer of earthenware and porcelain at the Empire Works, Hanley, Stoke-on-Trent.

The Empire Porcelain Company was in business by 1895 - probably the works were under construction.

The original partners were made up of members of the Austrian families of Rosenfeld and Lazarus who ran other ceramic factories in Europe.

The Empire Porcelain Company operated from two factories, either side of Elgin Road - one of which may originally have belonged to Grimwades.

In 1951 the business was aquired by the Kaufman Group, which in turn was aquired by the Qualcast Group in 1958.

The Empire Porcelain Company was incorpored as a Limited Company in 1963.

Because the works were difficult to modernise the business closed in 1967.

Empire Ware marked 'Made in Portugal' is a modern reproduction - see more


Empire Works
"The Empire Porcelain Company was established in about 1896 at the Empire Works in Stoke Road. A wide range of pottery and porcelain was subsequently produced. The various marks include the initials EPC, EP or the word Empire."

From: Jewitt's Ceramic Art of Great Britain 1800-1900
---
EMPIRE ENGLAND PORCELAIN 3 SCENE DISH
The dish is covered in gold flowers and leaves and in the center
of each of the 3 sections is a different mythological scene.

---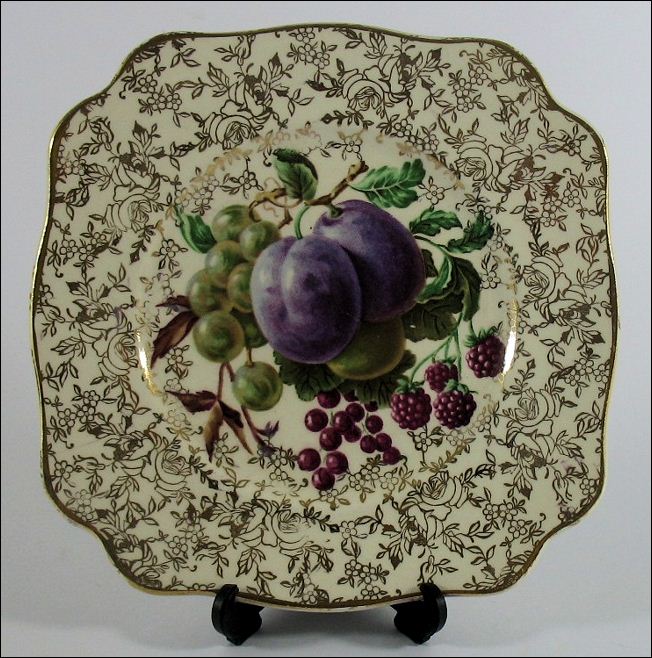 the date mark on this side plate is November 1954
---

A "Checkmate" coffee set by
Empire Porcelain Company, Staffordshire, England.
Designed by John Russell

---
The London Gazette, January 4 1895
Notice that Sander Lazarus retired from the partnership between
Sander Lazarus, Abraham Rosenfeld, Benedict Rosenfeld,
Isaac Rosenfeld, Sidney Rosenfeld and Isaac Lazarus
They were manufacturers and merchants
in London and Steinschönan and Kittlitz, Austria as 'Lazarus and Rosenfeld'
in New York as Lazarus Rosenfeld and Lehmann
in Altrohlau, Austria as Victoria Porzellanfabrik (Victoria Porcelain Factory)
in Staffordshire as the Empire Porcelain Company

---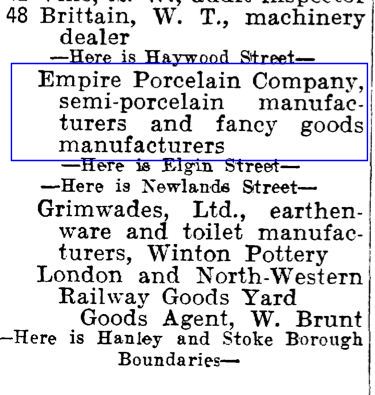 Empire Porcelain Company,
semi-porcelain manufacturers
and fancy goods manufacturers
from..... 1907 Staffordshire Sentinel
'Business Reference Guide to The Potteries, Newcastle & District'
---
Initials and marks used on ware for identification:


EPC
EMPIRE WORKS
STOKE-ON-TRENT
"Ltd" may be included in the name after mid 1963.
Month and Year of manufacture often occur with the
marks between the 1920's and the later 1950's
for example "3 43" is March 1943
---
EMPIRE
EMPIRE PORCELAIN Co
EPC
---
EMPIRE WORKS
SHELTON IVORY
EMPIRE WARE
IVORY WARE
---

click for further information
on Empire Porcelain Co marks
---

marks 'Made in Portugal' are modern reproductions
- click for more -
---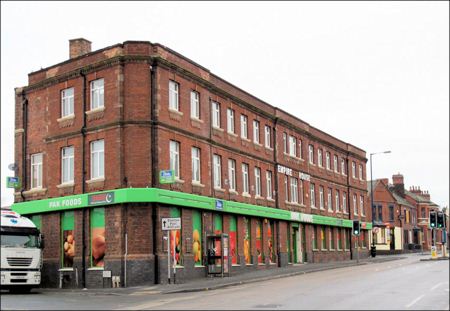 - click for information on the Empire Works -
---
Questions/comments/contributions? email: Steve Birks
---