Location and period of operation:
Gater, Hall & Co

Tunstall


Burslem

c.1899
1907

1907
1943
Gater, Hall & Co operated at the New Gordon Pottery in Tunstall from about 1899 to 1907. Around 1905 Thomas Gater purchased the Royal Overhouse Pottery in Burslem from Ralph Hammersley who had rebuilt the works in 1870.
In 1943 the works continued under the ownership of "Barratt's of Staffordshire Ltd"
For a short time prior to "Gater, Hall & Co" Thomas Gater & Co" operated the works.
Initials used on ware for identification:
G H & CO.
CORONA
CROWN CORONA
---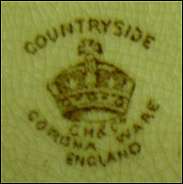 G H & Co
CORONA WARE
ENGLAND
'CONTRYSIDE' is the pattern name
printed mark 1895+
---

C H & CO mark of 1914+
which appears on the Willow Pattern stand shown below

blue willow pattern teapot stand dating from c1915.
Made by Gater, Hall & Go. Staffordshire.
Measures 7 x 6 inches.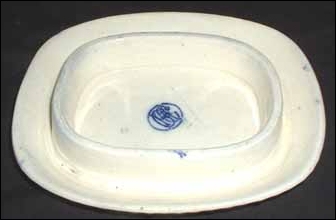 underneath of stand
---

---
The above information may not be available
for all potters - if you have information to
help complete the records then I would be
happy to include it.
email: Steve Birks
last updated: 27/01/2003