Bourne & Baker
Bourne, Baker & Bourne
Bourne, Baker & Baker
W Baker & Co (Ltd)







Location and period of operation:
W Baker & Co

(Ltd)

Fenton

1839

1932
Earthenware and Granite Ware manufacturer at Market Place and Victoria Road, Fenton, Stoke-on-Trent, England
The business has a history dating back to 1790. By the end of the century Ralph Bourne and William Baker were working together as 'Bourne & Baker'

By the late 1820s, Ralph Bourne and William Baker, in partnership with John Bourne, had acquired an additional works.

1833 With the deaths of John Bourne and William Baker, the partnership was dissolved, and then for a short time the business was carried on by Ralph Bourne, William Baker the younger, and John Baker.

By 1839 William Baker was running the business alone.

The business was subsequently carried on as William Baker and Company, makers of printed, sponged, and pearl-white granite ware for export.

In the 1851 census William Baker also described himself as "Joint Coal Proprietor" because the partnership rented 18 acres of land on the south side of Fenton House which belonged to Lane End Chapel. Here they opened a colliery called Glebe Colliery which supplied coal to the factory and to other pottery manufacturers in the area. Next to the colliery they opened a brick-works served by an adjacent clay pit.

The potworks flourished under William Bakerís management and by the middle of the nineteenth century, with almost 500 employees, was the biggest firm in Fenton.

The company was incorporated as Baker & Co Ltd in 1893
Fenton Potteries (W. Baker & Co)
"The goods produced here were of the ordinary class of printed, songed, and pear-white granite ware suitable for the British North American, United States, West Indian, African, and Indian markets.
Messrs W.Baker & Co. started in High Street, Fenton, in 1839. In 1868, they moved to the Fenton Potteries and continued to 1932..."

Ceramic Art of Great Britain 1800-1900 L Jewitt

Ironstone and Granite ware
Ironstone is a type of vitreous earthenware pottery. White ironstone ware was imported to the United States from England, beginning in the 1840s.
Undecorated tableware was most popular in the United States, and British potteries produced white ironstone ware, known as "White Ironstone" or "White Granite" ware, for the American market.

W Baker capitalised on this Granite ware market, exhibition in the 1855 Paris Exhibition. Their telegram address was "Granite, Stoke-on-Trent".
---
Selected by the Committee for the Staffordshire Potteries
to exhibit at the Paris Universal Exhibition of 1855




Baker, W., and Co.
Fenton Potteries, Stoke-upon-Trent
Granite Ware
---


Baker & Co
Manufacturers of WHITE GRANITE, Printed and all kinds of EARTHENWARE suitable for Colonial
and Foreign Markets
Fenton Potteries, Staffordshire
The Pottery Gazette - May 1880
---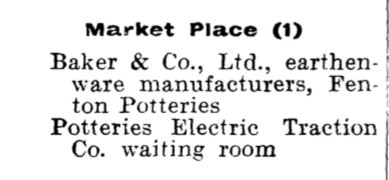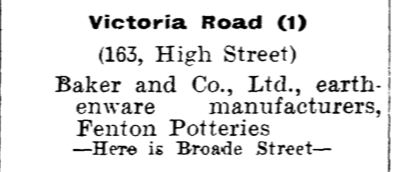 Baker & Co., Ltd
Earthenware manufacturers
Fenton Potteries
from: 1907 Staffordshire Sentinel
'Business Reference Guide to The Potteries, Newcastle & District'
---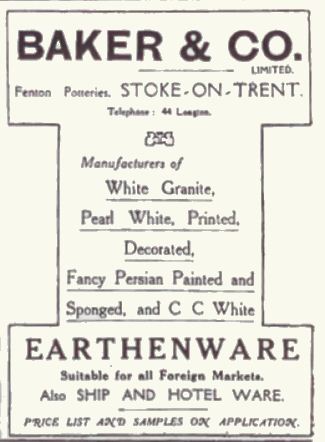 Baker & Co., Ltd
Fenton Potteries, Stoke-on-Trent
Earthenware Suitable for all Foreign Markets
Also Ship & Hotel Ware
The Pottery Gazette Diary 1917
---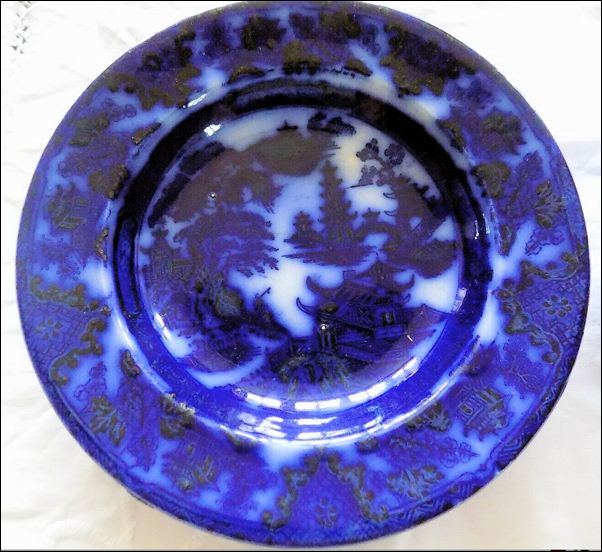 Flow blue bowl in the Shanghai pattern
---

Ironstone jug in the Woodland transferware pattern
---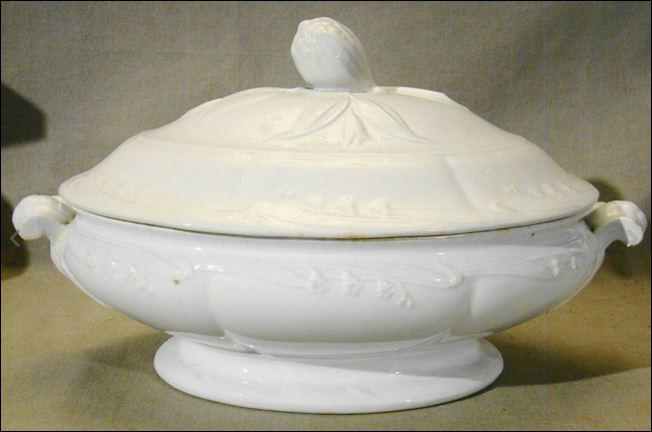 White Ironstone tureen
---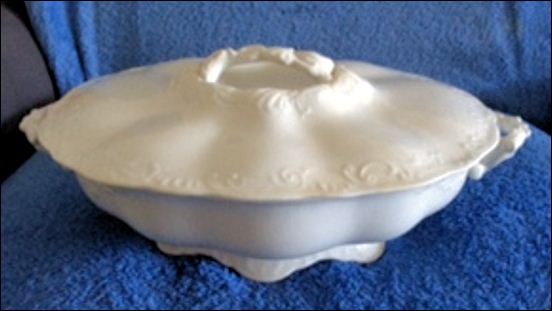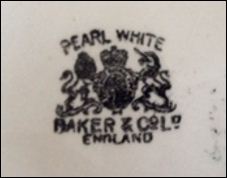 Tureen in the Pearl White body
c. 1893 to 1928 date range
photo courtesy: Patti Adcock
---

Octagonal handpainted side plate
Old English
Handpainted

c.1930-32
---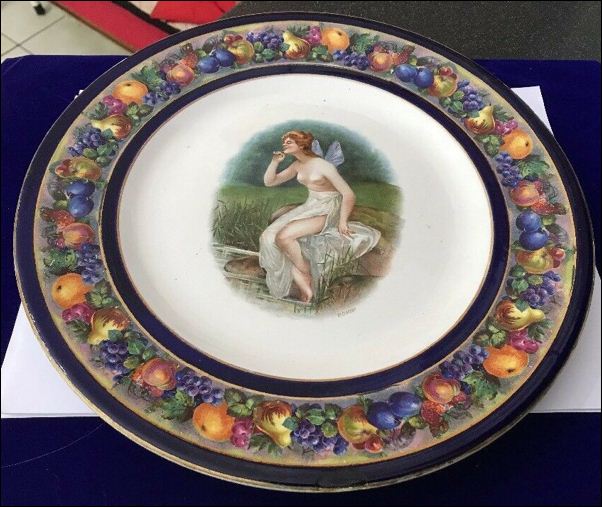 Handpainted plate with fairy and fruitborder
c.1930-32
---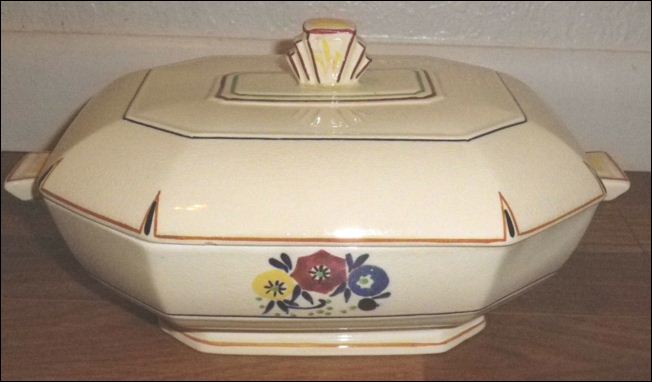 serving dish with lid
Art Moderne
c.1930-32
---
Marks used on ware for identification:
W BAKER & CO
BAKER & CO
---
Pearl China
Ironstone China
Pearl White Granite
Stone China
Royal Stone China
Royal Ironstone China



---

W.B. & Co
Pearl China
Fenton

PW
Ironstone China
W B & Co

c.1839-60

Both of these printed and impressed marks appear on the same platter. The ware was likely made for the American market (hence the eagle on the top of the printed mark)

The PW on the impressed mark is likely for PEARL WARE (a trade name - used by a number of potters)

---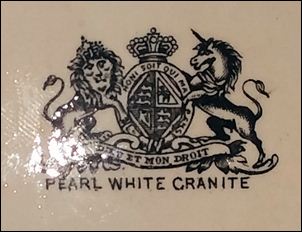 Pearl White Granite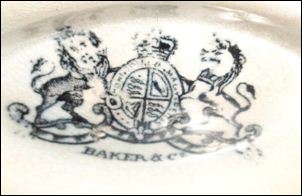 Baker & Co
c.1839-60
---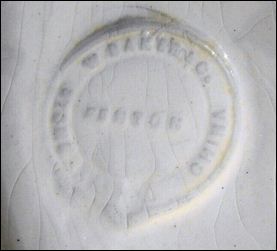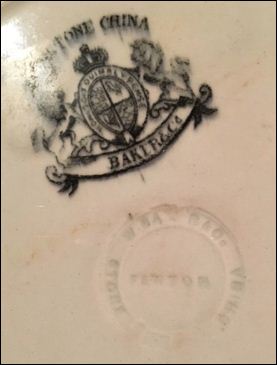 W. Baker & Co
Stone China
Fenton
c.1839-60
---

IRONSTONE
W Baker & Co
SHANGHAI is the pattern name
c.1860-93
---

Staffordshire
England
Baker & Co

Royal Stone China
Baker & Co
England

c.1891-93

These marks have "ENGLAND" which was generally introduced on all English ware after 1891 (because of the McKinley Tariff) and they do not have "LTD" which was added to Baker ware in 1893
---

W. Baker & Co


c.1860-1892


W. Baker & Co Ltd
Made in England

c.1893-28
WOODLAND is the pattern name
---

Royal Ironstone China
Baker & Co Ltd
England
these mark appear in the Pottery Gazette Diary 1917
---


Baker & Co Ltd
Semi Porcelain
Estd 1790
Fenton
Made in England

Ironstone China
Baker & Co Limited
Fenton
Made in England
c.1920s onwards
---

Old English
Handpainted
Baker & Co Ltd
England

Baker & Co Ltd
England
Handpainted

c.1930-32
---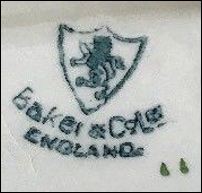 Baker & Co Ltd
England
c.1930-32
---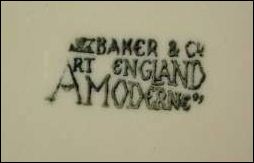 Baker & Co
England
Art Moderne
c.1930-32
---

PHOTOS: Works, cottages, workers houses

- click for more information -
---
Questions/comments/contributions? Steve Birks
---