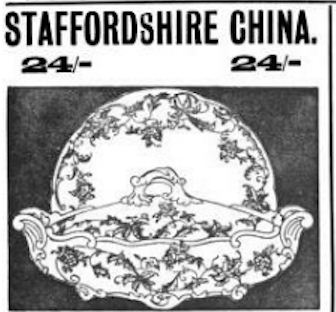 We will forward, carriage paid (extra for Scotland or Ireland) a beautiful Dinner Service, in Latest Design.
Quality: Finest Opaque Porcelain (semi-china). We guarantee this service to be of the highest grade in quality and finish, every piece Warranted.
Colour: Rich Peacock Blue and Claret Brown.
Contents: 55 pieces - 12 Cheese Plates, 6 Meat Dishes (assorted sizes, Covered Vegetable Dishes, Sauce Tureens, complete), 1 Butter Boat.
We can send alos for 8sh extra 1 Full Size Soup Tureen complete with Soup Plates.
Three Sample Plates, shewing different decorations, on recipt of 12 Stamps.
Don't forget CARRIAGE PAID. On Goods for Export we Pay Carriage to English Port and Ship at Lowest Rates.
Buy China fresh and bright from the Potteries.
Our New Catalogue (a Real Work of Art), containing numerous Illustrations of Tea, Coffee, Dinner and Chamber Services, is now ready, and will be sent to any Address FREE, to Intending Purchasers.
Please mention THE PALL MALL MAGAZINE.
Badged and Crested Ware for Private Families, Schools, Clubs, Hotels, etc.
HASSALL & Co.,
CHARLES STREET., HANLEY
(Staffordshire Potteries)