| | |
| --- | --- |
| Hicks & Meigh | |
Location and period of operation:
| | | | |
| --- | --- | --- | --- |
| Hicks & Meigh | Shelton | 1806 (08?) | 1822 |
Previously John & Edward Baddeley
Subsequently Hicks, Meigh & Johnson

According to a 1833 Factory Commission report the hours at the works of Hick & Meigh were from 6am to 6pm in the summer and 7am to 6pm in the winter, except on Mondays and Fridays when they were three hours less. (these hours were shorter than some of the other works!).
An hour and a half was allowed for meals. Children often worked longer hours. At Hicks & Meigh the printer room children arrived an hour earlier to light the fire and prepare the room.
Job Meigh II, who bought the Ash Estate in 1837, was the son of Job Meigh I (1750-1817), who manufactured pottery on the site of Hanley Old Hall. Job Meigh II, born in 1784, married Elizabeth, daughter of William Mellor of Johnsonís Charles Street Pottery in Hanley, in 1805. Job Meigh II initially worked for his father in the Old Hall Pottery but by 1807 he had left to go into partnership with Richard Hicks, his brother-in-Law.

Richard Hicks married Lydia Meigh, daughter of Job Meigh I in 1801. In 1807 he bought a factory in Broad Street, Hanley, were he set up as a pottery manufacturer (in the works established by J & E Baddeley), in partnership with his brother-in-Law, Job Meigh II. In 1815 they rebuilt the works in a typical rectangular courtyard plan with the kilns in a line along the rear.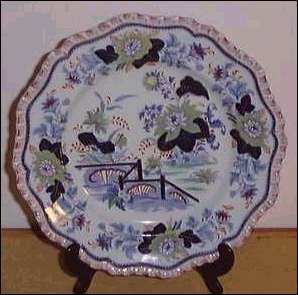 Hicks & Meigh plate
Initials used on ware for identification:
HICKS & MEIGH
STONE CHINA
---
The above information may not be available
for all potters - if you have information to
help complete the records then I would be
happy to include it.
email: Steve Birks
updated: 10/02/2002