| | |
| --- | --- |
| Joseph Holdcroft | |
Location and period of operation:
| | | | |
| --- | --- | --- | --- |
| Joseph Holdcroft | Longton | 1865 | 1906 |
Manufacturer of earthenware, parian and majolica ware in Longton, Stoke-on-Trent
Founded as Joseph Holdcroft in 1865 at St. Martins Lane and from c.1872 operated at the Sutherland Pottery, Longton.

Joseph Holdcroft was the son of an affluent pottery owner, William Holdcroft. Upon graduation from the Wedgwood Institute in Burslem, he joined his father's pottery, the George Street Pottery, Tunstall, where he developed several patents for the manufacture of earthenware.

Joseph Holdcroft then worked for Mintons, leaving there around 1865 to open his own concern on St. Martin's Lane in Longton where he specialized in silver luster.

Around 1872 he opened the Sunderland Pottery at Daisy Bank, Longton where he specialized in majolica, parian and silver luster. The output was well respected and received good sales during its time.

After 1885, the thrust of the company changed and it went from producing high quality original ware to cheaper, poorly potted imitative patterns. The quality of the work suffered for the sake of output and workmanship varied significantly. The company continued production of this cheaper majolica until Joseph Holdcroft died.

Joseph Holdcroft died on the 30th April 1904.

After Joseph died the pottery was then taken over by his son, Thomas who added the production of enameled brick to the output.

The company was incorporated in 1906 and then traded as Holdcrofts Ltd.
Subsequently: Holdcrofts Ltd.

tea service in the RUSTIC pattern
registered in 1877

---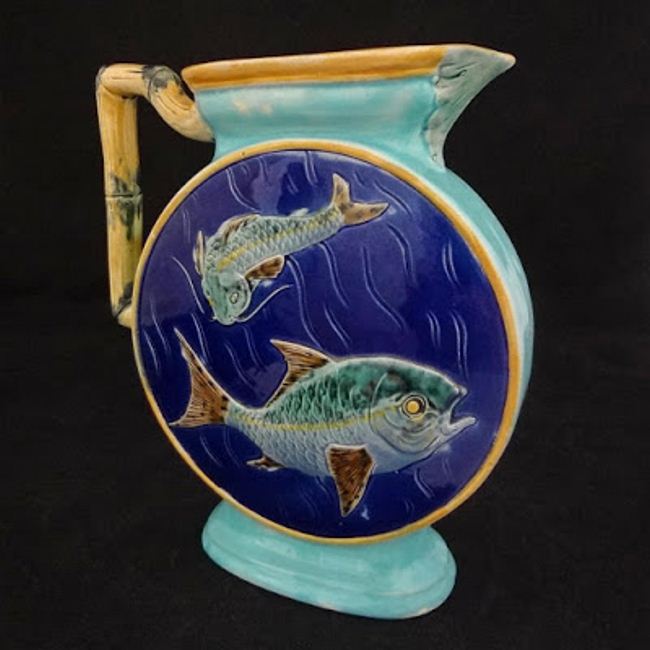 jug in a striking shape and pattern
registered in 1877

---
Marks used on ware for identification:
Recognizing Holdcroft majolica is not always easy since they didn't always mark their wares. When they did mark it the company marked its wares in one of two ways, either with the initials JH in a circle or the name J. Holdcroft in capital letters in a straight line.
A way of recognizing unmarked ware is by the underside glaze. Most commonly the underside of Holdcroft pieces will be glazed a recognizable dull green glaze. Some pieces, particularly plates, can be glazed in a mottled gray, blue and brown combination. Less commonly the undersides were glazed in a solid brown or green and brown mottle.

Holdcroft
J Holdcroft
---

J Holdcroft
1865-1906
---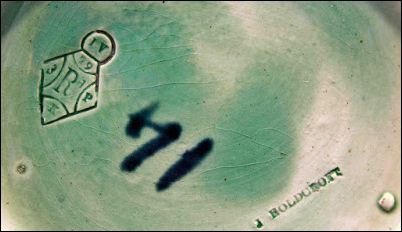 J Holdcroft
the registration diamond shows that the pattern was
registered on the 29th November 1877
---
JH
impressed or printed monogram
1865-1906
---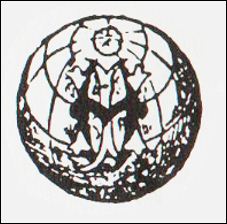 JH
printed mark
stylised JH on a globe
1890-1939
this mark was continued after 1906 by Holdcrofts Ltd
---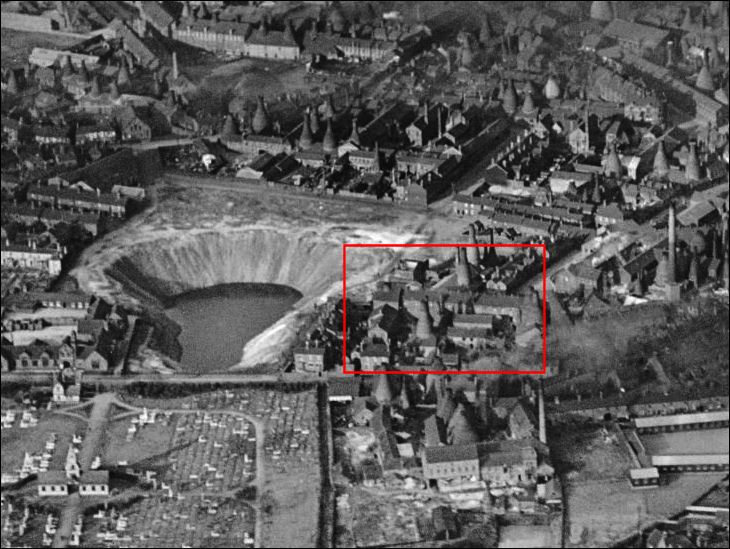 Daisy Bank marl hole and the surrounding pottery factories
Holdcroft's Sutherland Pottery, Spring Bank Road, Longton - 1927

---
Questions, comments, contributions? email: Steve Birks
---