Location and period of operation:
| | | | |
| --- | --- | --- | --- |
| Barker Bros (Ltd) | Longton | 1876 | 1981 |
China and Earthenware manufacturer in Longton, Stoke-on-Trent. (Became a subsidiary of Alfred Clough Ltd).

From 1876 to 1880/82 at Gold Street, Longton and then at the Meir Works, Barker Street, off High Street (now Uttoxeter Road), Longton. IIt became a limited company in 1882.

In 1910 the business was bought by the brothers William and Arthur Hewitt. The name 'Barker Bros' continued to be used.

In 1939 Sampson Smith's was alos purchased by the Hewitt brothers. Gerald Hewitt directed Sampson Smith's & Arnold Hewitt, Barker Bros. From 1941 to 1945 production of both companies was at the Barker Bros factory.

1959 Barker Bros was taken over by Alfred Clough. The name Barker Bros continued to be used until the business closed in 1981.
---

Barker Bros lusterware bowl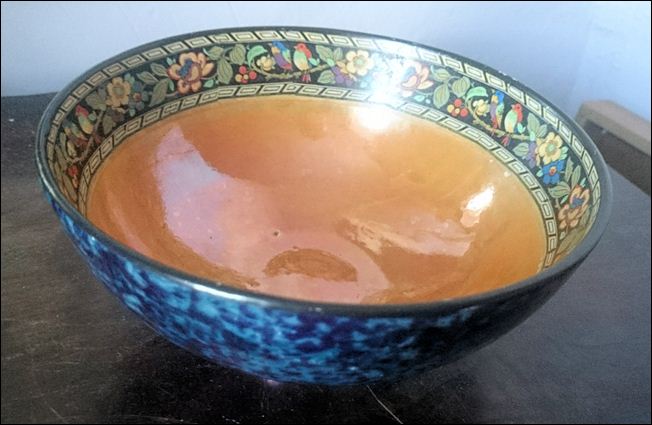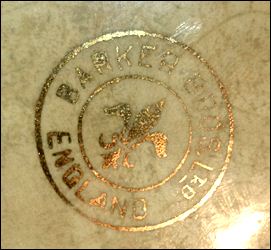 this style of mark was used c.1930-37
---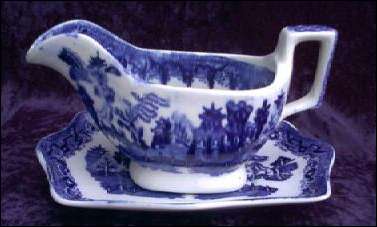 flowblue sauce boat & dish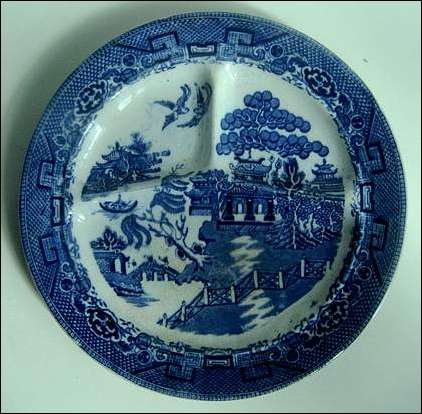 willow pattern plate

Barker Bros teapot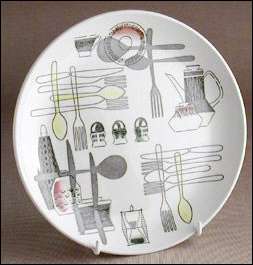 This 'Fiesta' plate was made in the early 1960s by Barker Bros. Royal Tudor Ware. Influenced by Enid Seeney's 'Homemaker' pattern (1955), the dish illustrates the contemporary style in domestic tableware.
It measures 19cm across.
---
Trade names used by Baker Bros:
(Nearly all marks include the name Barker Bros.)
PRIMROSA WARE
ROYAL TUDOR WARE
the name ROYAL TUDOR continued to be used by sucessor businesses
including Grindley of Stoke (1972-1982) and Federated Potteries (1982-87)
BONE WHITE IRONSTONE
MEIR CHINA
MEIR WARE
---
click for more information
on the markings on Barker ware>>

---
Baker Bros factory & employees:

Arnold Hewitt

Alfred Clough

Harold Salt
(Clay Shop Manager)

see a contribution from Harold Salt's daughter
---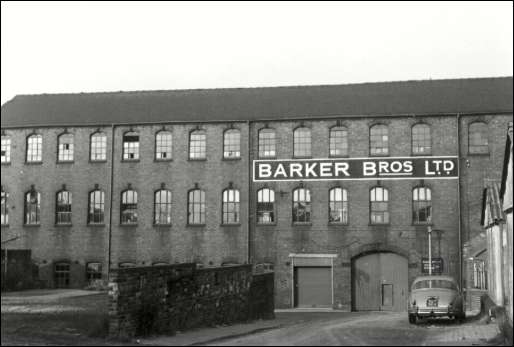 Barker Brothers Ltd, Meir Works, Longton.
photo taken 1960s
Lovatt collection
© copyright, of MLA West Midlands, Chrysalis
Stoke-on-Trent Libraries

---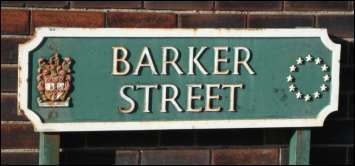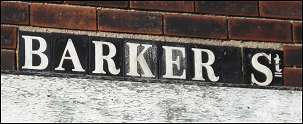 Barker Street Longton from an 1898 map
---
questions/comments/contributions? email: Steve Birks
---