Location and period of operation:
| | | | |
| --- | --- | --- | --- |
| Macintyre (& Co) (Ltd) | Burslem | 1854 | c.1928 |
Earthenware manufacturer at the Washington Works, Burslem, Stoke-on-Trent

James Macintyre was in business with William Sadler Kennedy at the Washington Works, in March 1854
the partnership was dissolved and Macintyre continued the works on his own.

The works continued after 1928 but only electrical ware was produced after this date.

---

Macintyre & Moorcroft:

In 1897 Macintyre & Co. Ltd employed William Moorcroft as a designer, and within a year he was put in full charge of the company's art pottery studio as Chief Designer.

Moorcroft's first innovative range of pottery, called Florian Ware, was a great success and won him a gold medal at the St. Louis International Exhibition in 1904. Unusually at that time, he adopted the practice of signing his name, or his initials, on nearly all the pottery he designed, the production of which he personally oversaw.

In due course the extent to which his success had overshadowed Macintyre's other manufacturing activities resulted in resentment on the part of his employers, culminating in their decision in 1912 to close down his studio. He then set up his own company and the following year production of his pottery was transferred to a brand new factory nearby.

---

c.1894 MacIntyre produced a series of designs by Wildig under the name "Washington Faience"

This was followed by the "Gesso Faience" line developed by Harry Barnard who had come to Macintyre from Doulton's and left them in 1897 for Wedgwood.

William Moorcroft's earliest pieces at Macintyre were the Aurelian Ware transfer pieces that eventually evolved into the 1902 Florian Ware designs.

The later Green and Gold Florian designs represent a combination of the earlier and later concepts. There were many variations on the Florian theme from the original flower patterns to scenic designs.
Previously: W S Kennedy & Co
---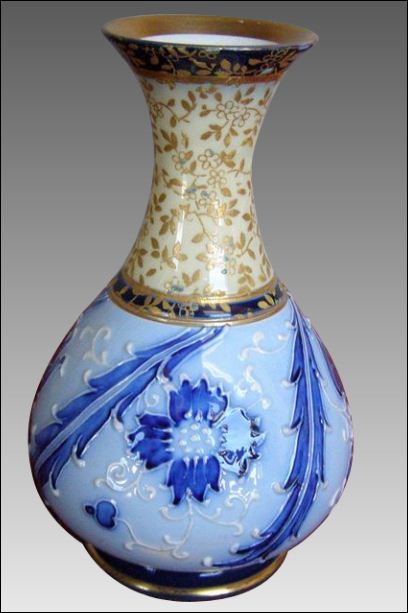 tube-lined vase - one of the 'Gesso Faience' range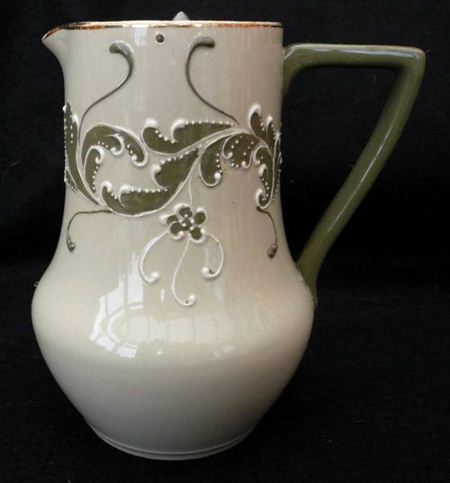 Jug with tube-lined decoration - one of the 'Gesso Faience' range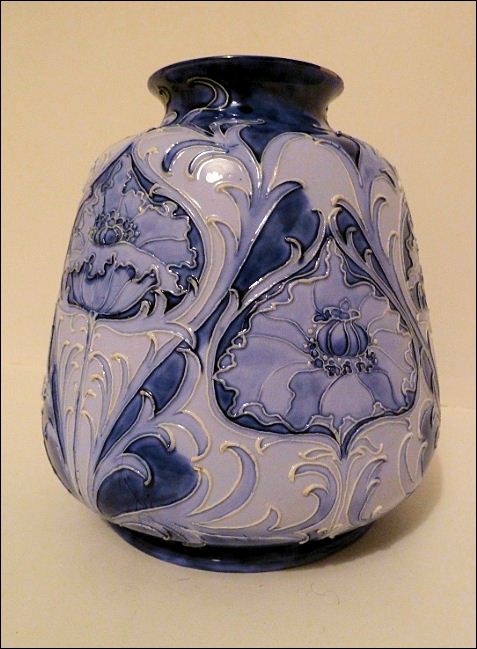 Florian Ware vase
---
Initials used on ware for identification:
MACINTYRE
J MACINTYRE
J M & Co
J MACINTYRE & Co
---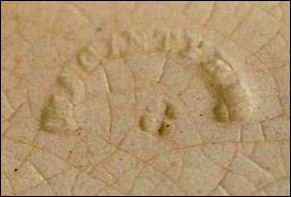 Impressed mark
MACINTYRE
---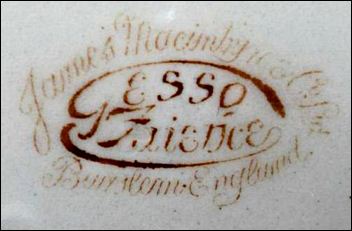 James Macintyre & Co Ltd
Burslem, England
Gesso Faience
---

FLORIAN WARE
Jas Macintyre & Co Ld
Burslem, England
---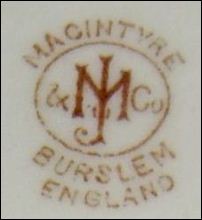 Macintyre
JM & Co
BURSLEM
ENGLAND

---
marks without "& Co" are c.1854-87
marks with "& Co" are c.1867-94
marks with "& Co Ltd" are c.1894-1928

---
questions/comments/contributions? email: Steve Birks
---