Location and period of operation:
| | | | |
| --- | --- | --- | --- |
| Mellor, Taylor & Co | Burslem | 1887 | 1904 |
Earthenware manufacturers at the Top Bridge Works (Longport) from c.1882-3 and the Cleveland Works from c.1884-1904, Burslem. Hard durable granite or ironstone china was made for the American market. Goods were also made, to some extent, for the home trade.

It appears that Mellor, Taylor & Co shared the Top Bridge Works with Davenports - it was not at all uncommon for potters to share or rent part of a works.

Note that although Godden records Mellor, Taylor & Co as occupying the Cleveland Works from c.1884, Jewitt states that they succeeded Thomas Hughes at the Waterloo Works (Cobridge, Burslem) in 1883.

Kelly & Keates trade directories records them at Bournes Bank (Burslem) between 1880 and 1884; and from 1887 to 1900 at Waterloo Road (Burslem)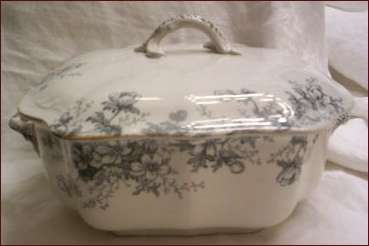 Octagonal shaped tureen with lid by Mellor, Taylor & Co. England in the Chelsea pattern. Raised fleur-de-lis pattern on either side of all handles. This tureen measures approximately 9 3/4" from handle to handle X 7 1/2" wide X 3 1/8" tall.
Initials used on ware for identification:
MELLOR TAYLOR & Co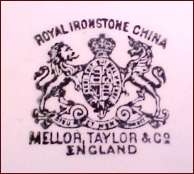 Printed or impressed mark
1880-1904
incorporating the Royal Arms


on Royal Arms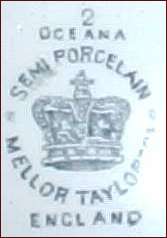 Printed or impressed mark
1880-1904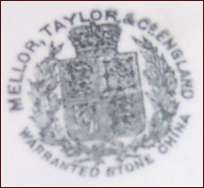 Printed or impressed marks
1880-1904
Using the exact replica of shield, crown and wreath
from the obverse of the Queen Victoria
half-crown coin
(as shown below)
---
email: Steve Birks
updated: 6 Sept 2004