Location and period of operation:
| | | | |
| --- | --- | --- | --- |
| Frank Beardmore & Co | Fenton | 1901 | 1914 (1916?) |
Manufacturer of earthenware at the Sutherland Pottery, Fenton, Stoke-on-Trent. Often produced souvenir ware for the American and Canadian market.
Frank Beardmore began potting on his own in 1901 - (although the standard references record 1903). Pottery Gazette & Journals for the time period document a 1901 start.

Beardmore family records include those of writer Arnold Bennett, whose sister married Frank Beardmore, and Beardmore's son George, who also became a writer.

For more information see the book/CD:- "Frank Beardmore: A Potter's Tale" 2005. (by Judith and Richard Wagner)
Contact the Wagners:-
bygones@gte.net
Bygones
PO Box 1558
North Bend, OR 97459
USA

Formerly: Christie and Beardmore
NOTE: The Sutherland Pottery (Fenton) of Frank Beardmore is not to be confused with the Sutherland Works (in Longton)
which is occupied by Hudson & Middleton.
Marks and Initials used on ware for identification: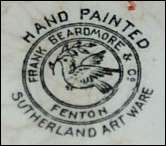 "SUTHERLAND ART WARE"
is a trade name of Frank Beardmore
it does not appear on all their ware
(see example below)
---

"BASALTINE WARE"
is a trade name of Frank Beardmore

---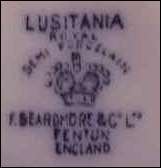 "LUSITANIA"
is the pattern name
---


mark on a commemorative plate
produced for the importers G. H. Bowman
---
F B & CO
F
[printed or impressed mark
- the "F" underneath stands for FENTON]

NOTE: F. B. & Co. is also the mark of a
U.S. importer based in Philadelphia. "Fisher, Bruce and Co"
---
F BEARDMORE & CO LTD
FENTON
ENGLAND
---
click below for more information:-

---
questions/comments/contributions? Steve Birks
updated: 11 Dec 2005