Public Monuments and Sculpture in Stoke-on-Trent & Newcastle-under-Lyme


|

Index of all Stoke-on-Trent art |



Statue of Cupid
at Burslem

Location: On top of cupola on converted flats, Westport Road, Burslem
Installed: 2000




The old Wood Fountain Place pottery works on Westport Road, Burslem
Following restoration and conversion into flats during 2000

Photo: Jan 2001


The frontage of Woods factory in 1840
Description: Statue of cupid on top of cupola - restored during 2000.
Background: This is part of restored flats and apartments. The listed building originally built in 1789, was the former Fountain Place works of Enoch Wood a famous and prolific potter.
The business closed in 1845 and the building has been used as warehousing, showrooms and shops. At sometime the original cupola and statue were removed, but during the restoration and conversion to flats a facsimile of the original was added.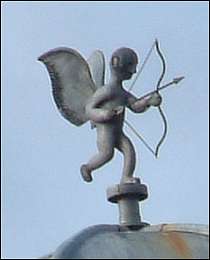 photos: January 2006

|

Index of all Stoke-on-Trent art |
---
questions/comments/contributions? email: Steve Birks
11 February 2006