| index of locations in Bennett's novels |

The Dragon Hotel
the Dragon Hotel of Bennett's novels was actually the George Hotel - the present George Hotel is not the one that Bennett knew, the original hotel burned down in 1929 and was rebuilt on the same site.

The George Hotel as it was in Bennett's days
this is the view from Queen Street [Bennett's Wedgwood Street]
photos: Ewart Morris Collection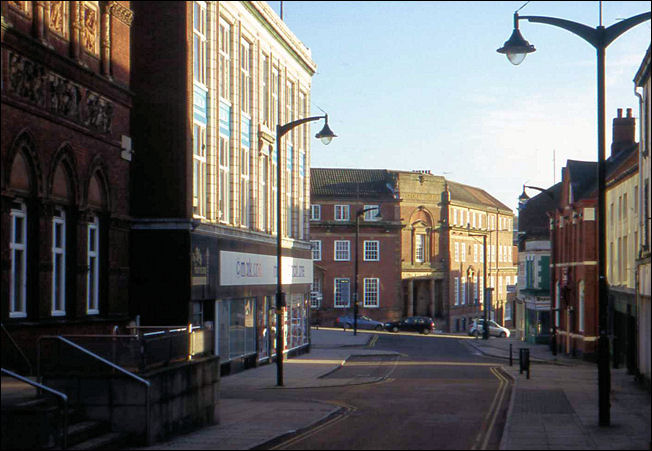 The George Hotel rebuilt in 1929 after fire destroyed the original
This view also from Queen Street.
On the left (close to the photographer) is the Wedgwood Institute,
which was the Art School in Bennett's writings.
Diagonally opposite the Dragon Hotel was the Clayhanger's Steam
Printing Works.

In Bennett's writings:
The hotel at the bottom of Duck Square [Swan Square] and on the corner of Trafalgar Road [Waterloo Road] and Aboukir Street (Nile Street].

"At the junction of Trafalgar Road and Aboukir Street stood the Dragon Hotel, once the great posting-house of the town, from which all roads started. Duck Square had watched coaches and waggons stop at and start from the Dragon Hotel for hundreds of years. It had seen the Dragon rebuilt in brick and stone, with fine bay windows on each storey, in early Georgian times, and it had seen even the new structure become old and assume the dignity of age.....
....the Dragon Hotel, safely surviving all revolutions by the mighty virtue and attraction of ale, stands before them to remind them of the interestingness of existence."
"The gigantic word 'Steam-printing' could be seen from the windows of the Dragon, from the porch of the big Wesleyan chapel higher up the slope, from the Conservative Club and the playground at the top of the slope..."
"He [Edwin] had never been inside the Dragon. He had been brought up in the belief that the Dragon was a place of sin. The Dragon was included in the generic term 'gin-palace,' and quite probably in the Siamese-twin term 'gaming-saloon.'"
Bennett: Clayhanger Book 1 Chapter 3
Actual location / building:

Entrance of the re-built George Hotel
this photo taken from Waterloo Road
Swan Square to the left and Nile Street to the right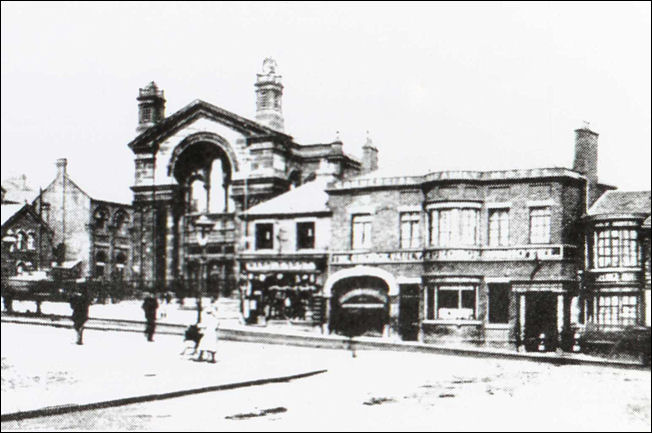 Swan Square [Bennett's Duck Square]
the Wesleyan Methodist Chapel stands next to the George Hotel

The George Hotel [Bennett's Dragon Hotel]
to the right can be seen Nile Street [Aboukir Street]
"the Dragon rebuilt in brick and stone, with fine bay windows on each storey, in early Georgian times"

---
| index of locations in Bennett's novels |