| Index of Churches and Chapels |
| Index of Longton Churches |
St. John the Baptist Church
Lane End, Longton


previous: photos and description of St. John's Church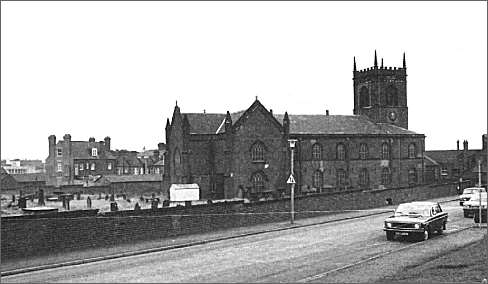 St. John the Baptist Church - February 1975
The church was demolished in 1979 because of mining subsidence, in the background can be seen the Crown Hotel. This picture was taken from Rutland Road. After demolition of the church the graveyard was cleared and the site used for retirement housing.
Source: "Kevin Long"
---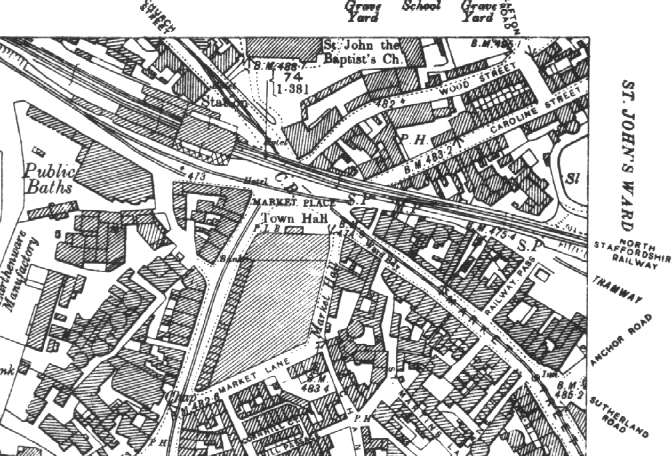 1898 Ordnance Survey map
St. John's Church can be seen at the top right of the map, John Bourne endowed a chapel and school at Lane End. The original 1762 fell into disrepair and a larger, red brick church was built on the same site in 1792-5 - this church was dedicated to St. John The Baptist. It was demolished in 1979.
This area was little more than a straggle of houses until the 18th C. The junction of what became Market Place (and now called Times Square) had, by the 17th C taken on a name of its own: Meir Lane End, later abbreviated to Lane End. For many years this was regarded as a separate township to Longton. However the name Lane End was to fade away in during the 19th C as the two communities became one.
.

---
questions/comments/contributions? email: Steve Birks