Banks have traditionally played roles as dominant local landmarks, symbols of wealth and power; one of the finest examples is Sir Edwin Lutyens' magnificent pile for the Midland Bank on King Street in Manchester.
There are many such examples throughout the Potteries, such as the former Midland Bank on Tunstall's High Street (as with Manchester's Lutyens masterpiece, now occupied by HSBC).
Arguably the finest can be found in Burslem, the Mother Town, on Fountain Place. Dating from the 1870s, and originally occupied by the District Bank, the Natwest Bank is a beautiful example of Tudor Gothic architecture at a human scale. Built in red brick, embellished with stone dressings, and finished with a Welsh slate roof, the building sits handsomely opposite St Johns Square, and is a great symbol of Burslem's late nineteenth century prosperity.
It also fits perfectly with the Mother Town's theme of architectural eclecticism and continuity.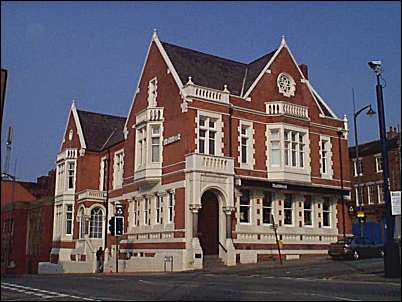 Natwest Bank, Fountain Place, Burslem



Banks didn't necessarily build their own premises though; once again in Burslem, the Midland Bank have in the past occupied one of the Mother Town's most famous and much-loved landmarks, the Big House, built in 1751 by the Wedgwood family.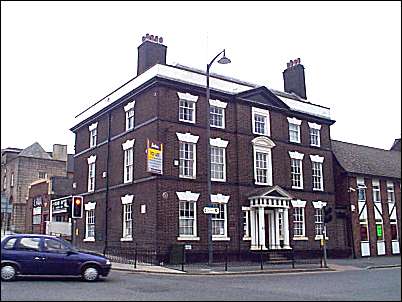 Wedgwood's Big House, Burslem - once occupied by Midlands Bank
This is a trend continued in other parts of the Potteries. Hanley's second Town Hall, which was constructed at the heart of Fountain Square, a grand classical edifice from 1845, amazingly only lasted 41 years as a public building and was taken on by Lloyds in 1886.

Hanley's former Town Hall, and also former Lloyds Bank
It didn't last too long as a bank either, and was eventually demolished to make way for new bank premises, which still remains to this day.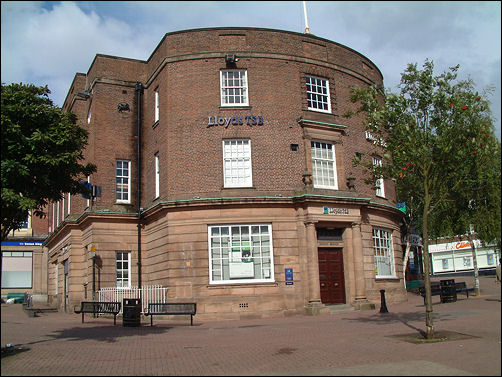 Lloyds TSB Bank, Hanley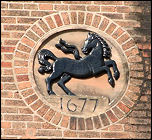 Lloyds Black Horse Logo
Lloyds also occupied well appointed premises over in the forgotten town of Fenton (forgotten by Bennett, but not by Stokies).
Built in similar materials to the Natwest Bank in Burslem, it provides an attractive landmark at the junction of Baker Street and Christchurch Street.

Former Lloyds Bank, Fenton


At the heart of the Neck End in Longton sits probably the finest modern example of bank architecture in the city. Occupied by Lloyds TSB, and occupying a prominent site at the junction of Market Street and Anchor Road, this brick and concrete tour de force overpowers and dominates the streetscene, a monument to 1980s design, and the 1980s financial sector dominance; you can almost hear it bawl "loadsamaneyyyyy" at its Victorian neighbours.
And so to the future. There are plans to construct a new business district in Hanley around the former site of Unity House, and it is hoped that this new destination will attract new business to Stoke-on-Trent, and create around 3,000 new jobs in the professional and financial services sectors. Whilst this will prove a major challenge in the current economic climate, let's hope it proves a success, and also provides us with new architectural landmarks, as the sector has in the past.
David Proudlove 27 October 2008