To the north of the city, we have Tunstall Cemetery, which was laid out on part of Tunstall Farm in 1868.
<![if !vml]>
<![endif]>
Aerial view of Tunstall Cemetery

<![if !vml]>
<![endif]>
Gates and Piers, Lower Entrance off Clay Hills

The cemetery boasts an attractive landscape, and its interesting topography provides stunning views across Chatterley Valley to Bradwell Wood.
<![if !vml]>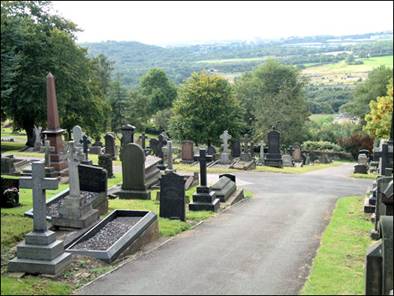 <![endif]>
View across Chatterley Valley from Tunstall Cemetery
The cemetery is the final resting place of Potteries' legends Father P. J. Ryan, and Clarice Cliff, who was also born in Tunstall and gained fame as one of the most influential ceramic artists of the twentieth century through her innovative Art Deco designs.
Unfortunately, the cemetery has lost its chapel, though adjacent to its lower entrance is the attractive the Cottage Hotel.
<![if !vml]>
<![endif]>
The Cottage Hotel
The Mother Town's cemetery lies to the east of the town centre, and sits between the former Sneyd Colliery site and Smallthorne, and on its consecration in 1879 was considered one of the most beautiful cemetery's in the country.
<![if !vml]>
<![endif]>
Aerial view of Burslem Cemetery from Google Maps

Burslem Cemetery is the final resting place of one of the city's most famous sons, the great author Arnold Bennett, who described Edwin Clayhanger's attending of a funeral at the cemetery in 'These Twain'. Fifteen years after the book was published, Bennett's ashes were interred there.
<![if !vml]>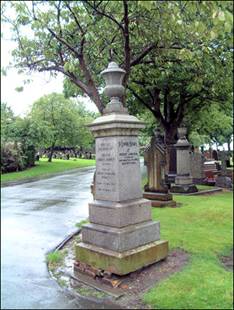 <![endif]>
Bennett's memorial
As with Tunstall Cemetery, Burslem Cemetery was set to lose its chapel - demolition was sanctioned by the City Council in September 2008 - however a prolonged campaign by the local community saved it from the bulldozers in March 2010.
<![if !vml]><![endif]>
Burslem Cemetery Chapel

<![if !vml]><![endif]>
Main entrance

Further to the east of the city lies one of the finest landscapes in North Staffordshire, and a Green Flag Award winner, Carmountside Crematorium.
<![if !vml]>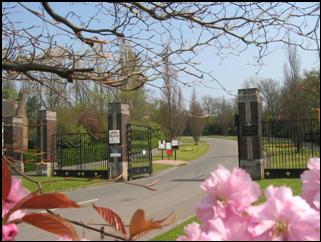 <![endif]>
Main entrance, Carmountside Crematorium
The crematorium and chapel were opened at the height of World War II in 1940, with the cemetery following in 1947. The grounds cover some 25.7 hectares, and have been fantastically managed by the City Council: as well as being a cemetery and crematorium, it is a haven for local wildlife and is used by local people for walking and contemplating life.
<![if !vml]>
<![endif]>
The cemetery at Carmountside Crematorium