Here in the Potteries, we have had mixed results when it comes to the reuse of historic buildings. We have seen some well executed schemes, such as the creation of the Dudson Centre on Hanover Street in Hanley, now a centre for voluntary services and the Dudson Museum, and the conversion of St James' School in Longton to the Hothouse, a business incubator centre. But these are tempered by some awful jobs, and the Potteries has seen examples of chapels being converted to grotty warehouses, and pubs converted to cramped flats.
And what of our most notable building, our potworks? The Potteries' skyline was once shaped by thousands of bottle kilns; now there are less than fifty left. There are many more potworks left, but many of those are in a poor condition, with many staring into the abyss. Falcon Pottery, the former home of Weatherby's is falling down around our ears on Old Town Road opposite the fabulously restored Golden Cup, whilst Boundary Works, one of the finest potworks in the city, is similarly staring down the barrel. Others, such as Hanley Pottery, have disappeared to make way for depressing and dreary new housing developments.
This could've happened to the Eastwood Works, a Nineteenth Century version of the Eighteenth Century potworks model (it looks like a stretched version of Boundary Works), which sits alongside the Caldon Canal - which was still used to transport ware to different parts of the site in relatively recent times - off Lichfield Street in Hanley. Eastwood Works was built in 1887 by Charles Meakin, and followed the late-Nineteenth Century trend of using iron beams and columns for support, and ensuring that rooms were larger than those in older potworks - the rooms at the Eastwood Works are 250 feet long - and larger windows and doors were used in order to create a greater sense of space and light. To the rear of the works stood a group of seven large bottle ovens known locally as 'the Seven Sisters'. However, the way in which the ovens were grouped meant that from whatever direction they were viewed, you could only see six at one time. The Seven Sisters have long since disappeared from the site, and just space remains.

Eastwood Works, home of Emma Bridgewater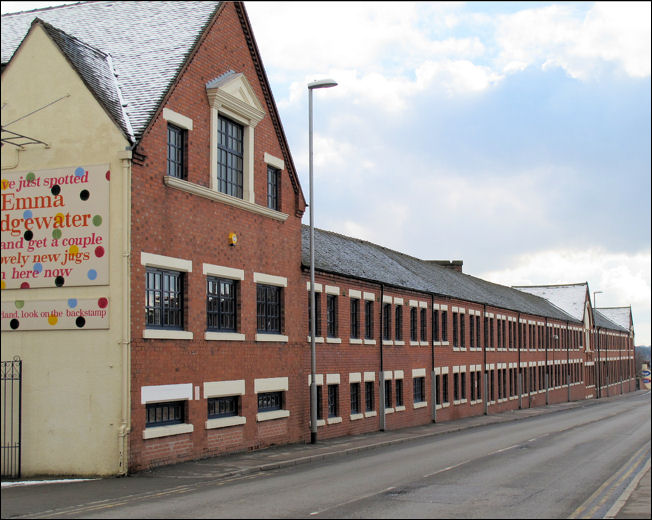 View of Eastwood Works frontage down Lichfield Street

The Seven Sisters on the Caldon Canal

Eastwood Works remained a working pottery for over a hundred years, but back in 1994, the site's future looked bleak. The handily located 3-acre site was virtually dead to pottery production, and was probably facing the wrecking ball, in spite of its potential and usefulness. Its saviour came from an unlikely source: Hertfordshire, via Chemical Lane in Longbridge Hayes.
Emma Bridgewater arrived in the Potteries in 1985 after failing to find a suitable cup and saucer for her mother's birthday gift, with the ambition of starting a business that would make suitable cups and saucers, and other ceramic joys. With a dream of reviving a redundant pottery factory, Emma pursued her goals with sound design principles and business acumen, and eventually opened her first factory at Chemical Lane in Longbridge Hayes. Eventually, her business boomed to such an extent that a new home was required.
A visit to Eastwood Works convinced Emma and her husband Matthew Rice that the site was for them, and in 1994, Emma became the site's Eighth Sister, and there they have remained ever since, with their business continuing to grow and play an extremely important role in the North Staffordshire economy. Over 150 local people are employed by Emma Bridgewater at Eastwood Works, utilising skills that have been developed in the Potteries over the past 250 years. There has been a myth propagated around Stoke-on-Trent over the past decade or so that the pottery industry is on its last legs: Emma Bridgewater posted record pre-Christmas profits in 2010 - the company's 25th anniversary - putting that old chestnut to bed.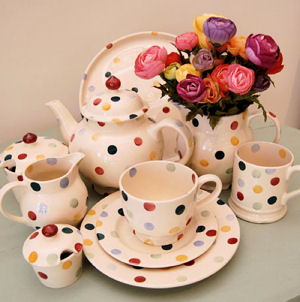 Wares by Emma Bridgewater: simple, attractive, functional

Emma and Matthew have taken the Potteries, its people and its history to their hearts, and their business is one of our Mother Industry's major players, taking their products and our skills and artistry around the world, demonstrating that there is no substitute for the quality that the Potteries is still capable of. They have also breathed life into an important part of the city's industrial heritage, rescuing a site that would have no doubt become a pile of rubble.

We should be proud of them.

David Proudlove
February 2011