Listed Buildings in Stoke-on-Trent and area
Church of the Holy Evangelists, Normacot, Longton
---
Area
Normacot
Street
Upper Belgrave Road
Heritage No.
105 A
Grade
II
Date Listed
20 August 1979
Building: Church of the Holy Evangelists
Location:

STOKE ON TRENT SJ94SW UPPER BELGRAVE ROAD

Description:

Parish church. 1846-1847. Coursed, squared and rusticated rubble with plain tiled roofs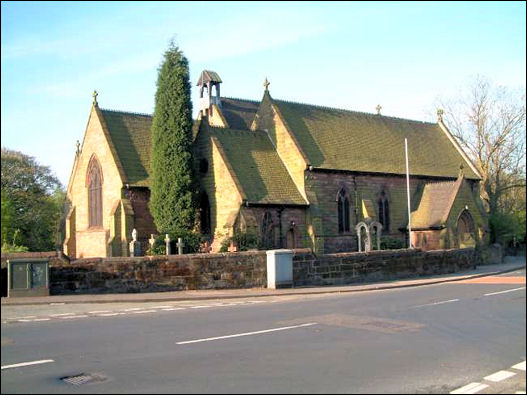 Church of the Holy Evangelists, Normacot
photo: Steve Birks Feb 2007
---

Parish church. 1846-1847.

Coursed, squared and rusticated rubble with plain tiled roofs with scallopped bands.

Nave with 2 aisles, and chancel with south aisle chapel and north vestry. Early Decorated style. Central buttress in west wall of nave flanked by lancet windows, and rose window over. Gabled porch in centre of north aisle, with 2-light Decorated windows with quatrefoils each side. Lancet windows to south aisle which is a slightly later addition. Bellcate at east end of nave.

Inside: arcade of 4 bays with alternating octagonal and cylindrical shfts, and corbels as responds. Chancel arch also carried on corbel heads, with royal arms over.

Ornate roof, with curved principal rafters carried on posts from corbels. Arms of Duke of Sutherland and Earl of Lichfield in tiles in the floor of the nave, and dates 1846 and 1847. Originally pews.

Reredos with 3 arcaded foiled arches over central statue. Sedilia. Stained glass in chancel of 1886 and 1949, and in south aisle, 1858-1876, and north aisle 1874-1892.

(The Victoria History of the Counties of England: RB. Pugh: Staffordshire: Oxford: 1963-).
---


Normacot Church (Easter Monday 1917)


Normacot Church of the Holy Evangelists at Harvest time
Interior c 1910

Holy Evangelists, Belgrave Road (SE). 1847 by George Gilbert Scott at the expense of the Duke of Sutherland (cf. Trentham). The N aisle 1891-2 by John Lewis. Not a masterpiece. Middle Pointed with a S aisle with small one-light windows. No tower. - plate. Chalice of 1781 by William Bell.
Pevsner: The Buildings of England





next: Church of the Holy Trinity, Northwood
previous: Bottle Oven at Middleport Pottery, Middleport