| Index of all listed buildings |


Listed Buildings in Stoke-on-Trent and area
Abbey Farm House, Birches Head Road
---
Area
Abbey Hulton
Street
Birches Head Road
Heritage No.
1a
Grade
II
Date Listed
19 April 1972
Building: Abbey Farm House
Location:

STOKE ON TRENT

Description:

EARLY C19 FARMHOUSE, MASONRY FROM HULTON ABBEY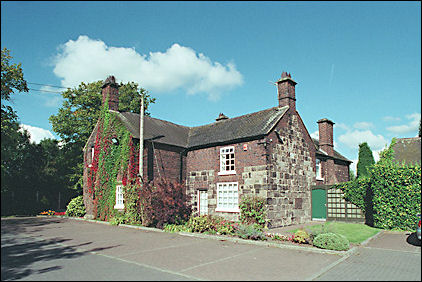 Abbey Farm House, Birches Head Road
photo: © Mr Clive Shenton - Sept 2002

---

Farmhouse. Largely early 19th Century in its present form, but incorporating several earlier phases of building. Brick with some stonework, plain tiled roofs. 2-storeys, main range of 2 units with central door in porch flanked by inserted casement windows on each floor, and with gable and stacks.

Evidence of an 18th Century building phase in this range, with earlier brickwork to ground floor and remains of blocked window in rear.

Rear ring incorporates substantial remains of masonry structure, showing clear evidence of earlier walling and chimney in coursed and squared rubble.
This stone work is said to have come from Hulton Abbey.

| Index of all listed buildings |
| Tunstall | Burslem | Hanley | Stoke | Fenton | Longton | Other areas |
---