Listed Buildings in Stoke-on-Trent and area
Church of the Holy Trinity, Northwood, Hanley
---
Area
Northwood
Street
Lower Mayer Street
Heritage No.
61 A
Grade
II
Date Listed
15 March 1993
Building: Parish Church
Location:

STOKE ON TRENT SJ84NE LOWER MAYER STREET, Northwood, Hanley

Description: Church. built 1848-1849 by J.Trubshaw.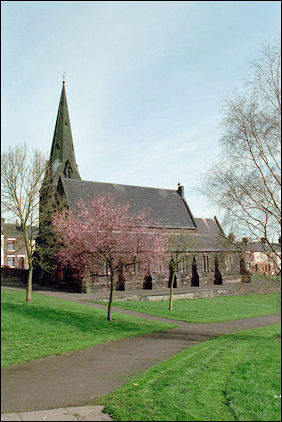 Church of the Holy Trinity, Northwood
photo: © Brian Peach April 2001
---

Church. built 1848-1849 by J.Trubshaw.

Rusticated stone with plain tiled roofs with scalloped bands. North-west tower with broach spire, nave and two aisles, chancel. 3-stage tower with angle buttresses and paired lancets to lower stage and bell chamber.

Broach spire with lucarnes. Coped western gable over triple lancet windows between buttresses. Added lean-to vestry to east. Chancel has angle buttresses and triple lancet window. South aisle with paired lancets between buttresses.
(The Victoria History of the Counties of England: RB.Pugh: Staffordshire: Oxford: 1963-).
---


Lower Mayer Street, Northwood, Hanley

Holy Trinity, Lower Mayer Street (NE). 1848-9 by J. Trubshaw. Yet another commissioners' church (price £2,714).
N steeple with broach-spire. Paired lancets, short chancel.
Pevsner: The Buildings of England


more on Holy Trinity, Northwood




next: Former Workhouse, Endon Road, Norton
previous: Church of the Holy Evangelists, Normacot