Listed Buildings in Stoke-on-Trent and area
Minton Cottages, Hartshill Road
---
Area
Hartshill
Street
Hartshill Road
Heritage No.
63 A to H
Grade
II
Date Listed
15 March 1993
Building: 267, 269, 271, 273, 275, 277, 279, 283 Hartshill Road
Location:

STOKE ON TRENT SJ8645SE HARTSHILL ROAD

Description: 1857 brick with plain tile roof, designed by George Gilbert Scott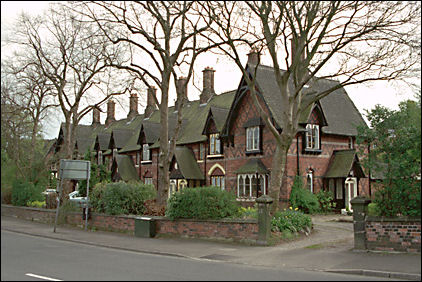 Terrace Houses - row of 9 cottages initiated by Herbert Minton
designed by George Gilbert Scott,
built under the supervision of Colin Minton Campbell

photo: © Mr Clive Shenton April 2002

---

Row of 8 cottages.

Brick with plain tiled roofs with scalloped bands and ridge cresting. Gothic style, one-and-a-half-storeys, each cottage is a single unit plan. The terrace is symmetrical with outer gables, then 6 dormers with the trefoiled windows corbelled-out.

Projecting gabled porches to ground floor each with paired 2-centred arched doorway. Terracotta reliefs in the apex of the porch gables depict biblical scenes (Adam and Eve etc).

Lower windows are 3-light casements. Outer gables have porches in the side elevations and square projecting bay windows to the ground floor. Pronounced bargeboards are carried on corbels. Diaper bands of blue brickwork. Fluted axial stacks.
---


Date over window of end terrace house
MLVII (1857)


Moulding of Jesus 'Passion' in Parian ware
over door of end terrace house.


photos: Steve Birks - June 2000





next: Minton Cottages, Hartshill
previous: Minton Cottages, Hartshill