Where is Hanley?
In the late seventeenth century, Hanley consisted of two small hamlets known as Hanley Upper Green (or just Upper Green) and Hanley Lower Green (or just Lower Green).
Upper Green at the junction of Town Road and Keelings Road and Lower Green where Market Square is today.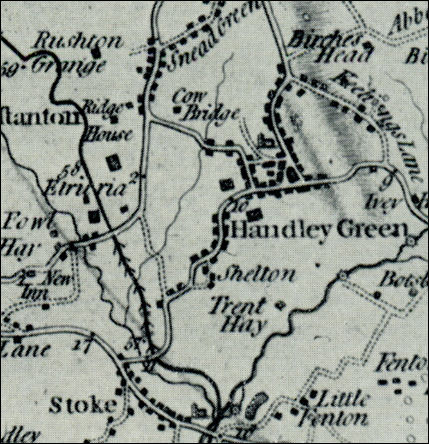 Extract from William Yates 1775 Map of Staffordshire
- showing Handley Green and Shelton as two distinct settlements
- click map for larger area of map -
---
The dividing line between Shelton & Hanley:
Stafford Street was the dividing line between the townships of Hanley & Shelton, so Pall Mall & Piccadilly lay in Shelton as did large and important buildings such as the town hall in Albion Street, Bethesda Methodist chapel and the library & Museum.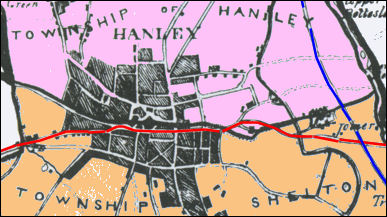 Townships of Hanley & Shelton in 1842
- click map for larger view -
---
The development of Hanley:
Hanley existed as a vill in the early 13th century.
In the early 18th century it was still 'a humble collection of dwellings' which lay chiefly around Upper Green (at the junction of Keelings Lane and the present Town Road), and Lower Green (the later Market Square). The whole formed 'two small villages, half a mile apart'.
Hanley Green as an alternative name to Hanley was in use by the end of the 16th century, and its use still lingered in the middle of the 19th century.
By 1775 (see the Yates map) the built-up area had spread westwards into Shelton township and there was continuous building along what are now Town Road, Old Hall Street, Albion Street, and Marsh Street.
The growth of the town is reflected in the building of the church in 1738, its extension in 1764, and its rebuilding in 1787–90. By the 1790's Hanley, though still smaller than Burslem, was 'an improving and spirited place'; it was, however, 'built so irregularly that, to a person in the midst of it, it has scarcely the appearance of anything beyond a moderate village; yet if the houses had been properly joined together, it would not only make a capital town but a well-built one'.
A History of the County of Stafford: Volume 8