Lane Delph was home to two of the worlds most famous families of potters - Spode and Mason.....
Lane Delph and Josiah Spode
Both Josiah Spode the first

(1733-97)

and Josiah Spode the second

(1755-1827),

were born in Lane Delph.
Josiah Spode I is thought to have been employed in a pottery until taken on as an apprentice by Thomas Whieldon in 1749. Leaving as a journeyman in 1754, he worked for William Banks & John Turner (1738-86) at Stoke until 1761, when it is stated that he worked his own pottery at Shelton.

Josiah Spode II also learnt the pottery trade and in 1775 became a dealer in earthenware, porcelain and glass, moving to London in 1778; success necessitated a move to premises large enough to be entitled on contemporary London maps as 'Mr Spode's Warehouse'. On the death of his father, Spode II left his son, Josiah Spode III and William Copeland in charge in London and returned to Stoke, where he ran the pottery, becoming Potter to H.R.H. the Prince of Wales after a royal visit in 1806.

Josiah Spode II continued to have very close connections with the Lane Delph area and in 1790 became a partner in a coal mining business (Fenton Park Colliery) with other Staffordshire potters. He lived at Fenton Hall until 1803 when he started building "The Mount" at Penkhull as a major house.


The Mount, Penkhull - home of Josiah Spode II
---
Lane Delph and the Masons
Miles Mason began his career in 1796 as a china importer in London, using his acquired wealth as startup capital, he opened a pottery factory at Lane Delph, Fenton.
In 1806, Mason's factory officially opened and became known as the Minerva Works. Miles Mason's three sons managed this factory. Because the Minerva Works was controlled by the Mason family, the factory soon became known as "Masons."


The Crown Staffordshire Porcelain Company Ltd
operated at the Minerva works from 1889-1948


Coalport
operated at the Minerva works from 1985-2000

In 1813, Charles James Mason, the third son of Miles Mason, received a patent for his "ironstone china." This hardened earthenware proved useful in the production of daily china, as well as industrial strength tiles used in furnaces, fireplaces, and flooring. Because of its exceptional durability, ironstone became the most successful product sold by the Minerva Works factory. Soon after the creation of ironstone, the Masons' name became popular throughout England and Europe.
Mason & Spode: In 1815, Charles Mason married Sarah Spode, the granddaughter of Josiah Spode. As a result of the familial alliance, the Minerva Works acquired a second factory that was being held by the Spode family in Fenton.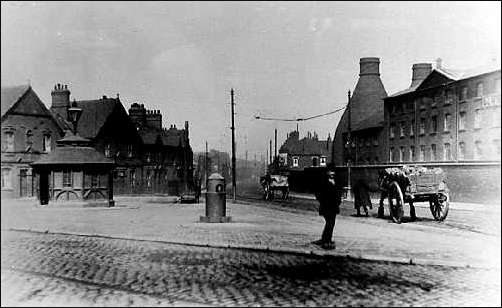 Fenton Pottery
Victoria Square, Fenton c.1915
the pottery works (Fenton Pottery) on the right was established in 1825 by the Mason brothers for the manufacture of their famous Ironstone China.

---