Queens Gardens - the development of the area
A 1818 directory of Staffordshire list the new names given to the streets on the Marsh Estate: Queen Street, King Street, Bruswick Street, Hanover Street and Nelson Place.
These names reflect the occupier of the throne, George III (r.1760-1820) - he was an Hanoverian.
Marsh Street (now Merrial Street) and Marsh Parade reflected the origin of the area as marshland.
---
Glebe Land...

Wood's plan of Newcastle-under-Lyme - 1838
The 1838 map show the area now occupied by the Queens Gardens as Glebe land, it has trees planted around two sides and the small lake is still in existence.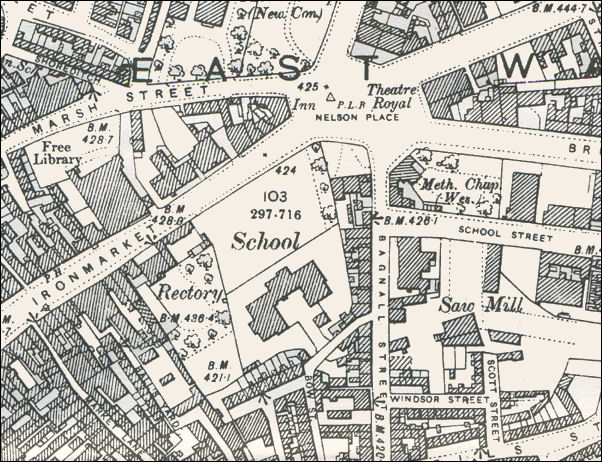 1898 OS map
This 1898 map shows the area just before the gardens were laid out in 1899. At one end is the rectory for St. George's Church. The school shown is St. Giles' and St. George's School.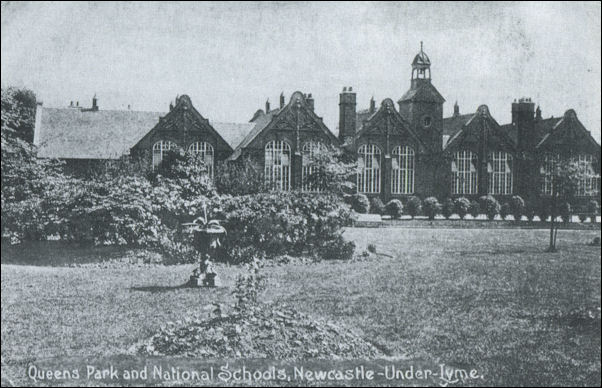 Postcard - "Queens Park and National Schools, Newcastle-under-Lyme" c.1915
This postcard looks across "Queens Park" - now called Queens Gardens to the National School (which became St. Giles' and St. George's School).