Tunstall

Tunstall Memorial Gardens
This war memorial commemorating both the First and Second World Wars, stands in Tunstall Memorial Gardens, The Boulevard.
photo: © Steve Lewin Dec 2005
"To the glorious memory of the men of Tunstall who gave their lives during the Great War 1914 - 1918."
The remaining two faces depict a wreath with the dates '1939 - 1945' inscribed inside to commemorate World War II
---
Burslem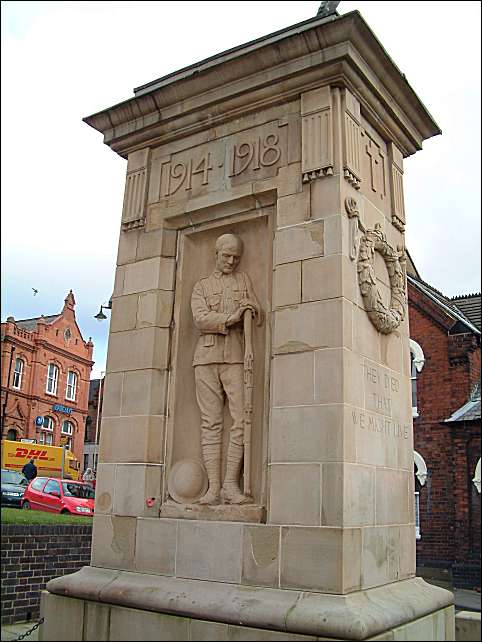 The figure of a soldier dressed in World War I uniform
the War Memorial, World War I in Swan Square, outside Burslem Methodist Mission

This war memorial was constructed in Swan Square, Burslem between 1900 and 1924 to commemorate the First World War. Built from stone, it is approximately one storey high with a plinth style base. There are two steps at the base of the structure, upon which six stone flower urns stand. There are floral wreath style decorated stone mouldings at the rear and sides of the memorial with a half statue soldier figure at the front set in a recessed panel with '1914 - 1918' inscribed above.
An inscription on the south side reads: 'They died that others might live'.
There is a further inscription on another side reading: 'Burslem's memorial to her heroic sons. 1914 - 1918. 1939 - 1945

---
Hanley
War Memorial originally built to commemorate the dead of World War I. The sculptor was Harold Brownsword and the memorial stands outside the Town Hall in Albion Street, Hanley.
There is a plaque inside the entrance to Hanley Town Hall with the names of fallen soldiers inscribed.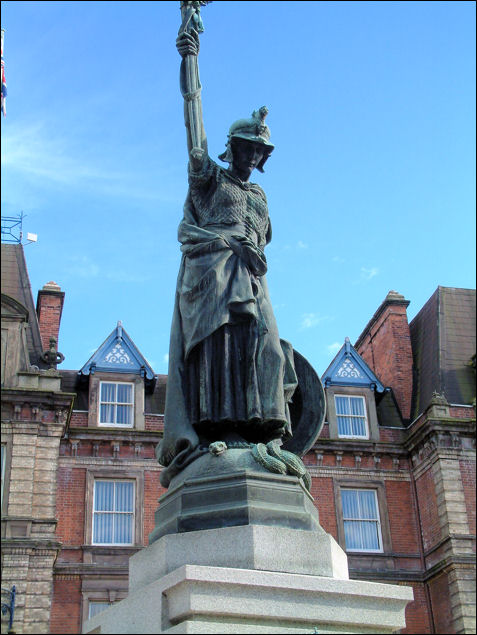 The bronze female figure of Victory stands atop the plinth, her helmet plumed with a lion and a snake beneath her feet.
The snake beneath Victory's feet alludes to the defeat of evil, in this case by force of arms (the sword in her right hand). The wreath is another signifier of Victory, while the lion on the female figure's helmet and the two Tudor roses either side of the Stoke on Trent coat of arms symbolise the English nation.
TO
OUR VALIANT
DEAD
1914-1918
&
1939-1945

THEY DIED
FOR
OUR FREEDOM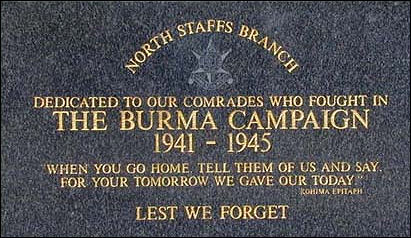 ---
Stoke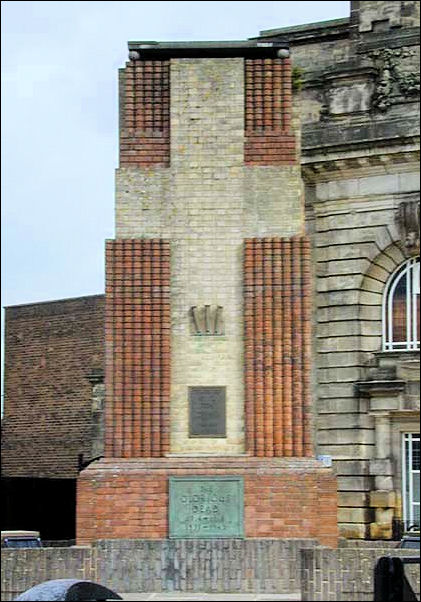 Stoke war memorial stands outside the King's Hall, Kingsway, Stoke.
photo: The Potteries Museum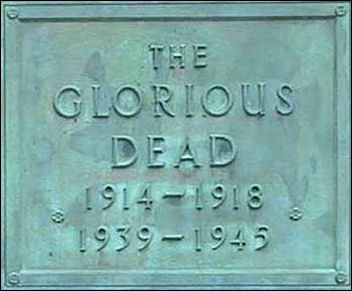 ---
Fenton
The monument was constructed between 1918 and 1924 and was later altered to commemorate both the First and Second World Wars.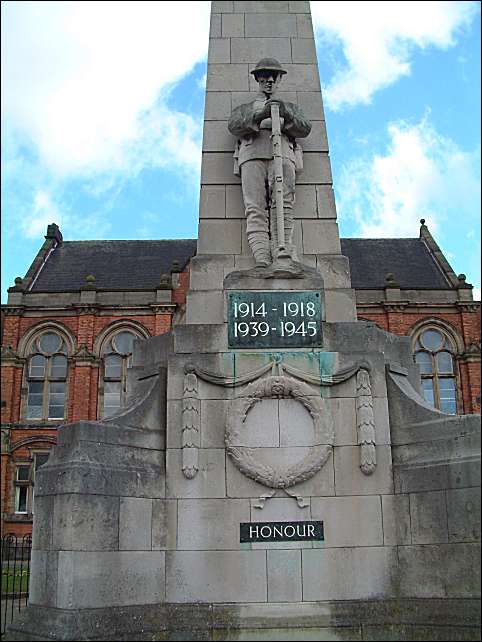 Fenton War Memorial
On the side facing Christchurch Street the figure of a private soldier stands with reversed arms
Standing in Albert Square in front of the
old town hall
---
Longton
This impressive war memorial commemorates all those who died in both the World Wars and in conflicts since. This cenotaph is situated in the grounds of Longton Park on Trentham Road. There are several plaques inside the structure.
'In memory of all those of Meir, Longton and district who gave their lives during the 1914 - 1918 war and the 1939 - 1945 war and all other wars and conflicts since so that we could be free. This tablet was erected in 1984. Their name liveth for evermore'.

photo: The Potteries Museum