One of the later of the City parks - Fenton park was opened in 1924 on the site of Broadfield Colliery at Fenton Low, it was extended in 1957.
"Fenton Park, extended to 36 acres in 1957, is now the third largest park in the Potteries. The new section has four football pitches, with the necessary pavilions and changing accommodation. There are bowling greens and tennis courts in the older portion together with walks, flower beds and lawns."
.. from 1957 Stoke-on-Trent handbook
The Staffordshire Sentinel 14 April 1924

"His Worship said that, remembering the site as it was previously, it looked as of someone had made the desert smile".

Alderman F. Collins (Mayor of Stoke-on-Trent) at the opening of Fenton Park
KEY DATES:

| | |
| --- | --- |
| Proposal for park: | c.1910 |
| Land off Cemetery Road purchased: | April 1912 |
| Work commenced on park: | 1919 |
| Park opened (about 17 acres in size): | April 1924 |
| Park extended (to about 36 acres in size): | 1957 |


Gates to Fenton Park - on Victoria Road

The main gates were moved to Victoria Road
when the park was extended in 1957

Originally when the park was opened in 1924 it was only half its current size and the entrance was at the junction of Cemetery Road and Broadfield Road. (now Beville Street and Broadmine Street)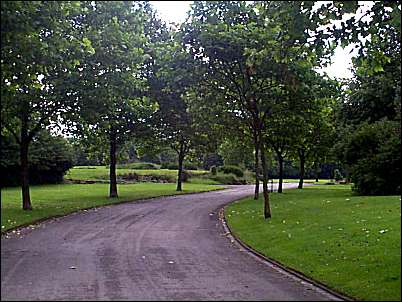 The drive running from the main gates

Fenton Park is home to one of Stoke-on-Trent's annual bonfire and fireworks displays in November.
It offers a range of sporting facilities throughout the year, it has 4 football pitches a five-a-side area and 2 crown green bowling greens.