Piccadilly, Hanley, Stoke-on-Trent



Streets of Stoke-on-Trent | Piccadilly |
---


| Index of all Hanley Streets |
Piccadilly, Hanley, Stoke-on-Trent



previous: index page for Piccadilly
next: John Peppers Cycle Shop (around 1905)
---
Photo: around the early 1960's ?
Street to the left is Piccadilly, street running to the right is Albion Street.
On Piccadilly can be seen the Abbey National Building Society, just in front cars can be seen on the roof of John Peppers garage which fronted Piccadilly, the workshops extended into Albion Street. Just to the right of centre (behind John Peppers) the top of the Regent Theatre can be seen. On the sky line (middle left) the tower of St. Johns Church on High Street (now Town Road) is visible.
On the corner of Piccadilly and Marsh Street (extreme left) stands the shop of Harris 'Electrical Engineers' the shop is called 'Electricity House'. The ornate building on the far right is the 'Staffs and Potteries Water Board Offices' on the junction on Albion and Bethesda Street - this is a listed building. The car park is that belonging to the Potteries Museum, on this site stood the Bell Pottery , this area was cleared in the mid 1950's.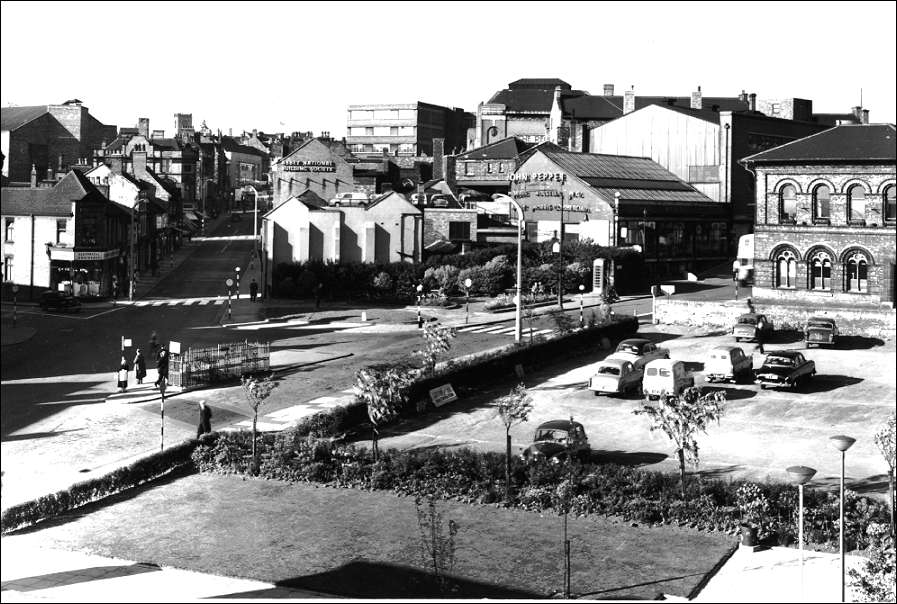 previous: index page for Piccadilly
next: John Peppers Cycle Shop (around 1905)
---

---
Did you live in this street or area?
questions/comments/contributions? email: Steve Birks