back to "The Grand Tour" index
Neville Malkin's "Grand Tour" of the Potteries
buildings north of the Potteries




next: Victoria Hall, Kidsgrove
previous: Talke Cross
contents: index of buildings north of the Potteries

No 33 - Reginald Mitchell's Birthplace, Butt Lane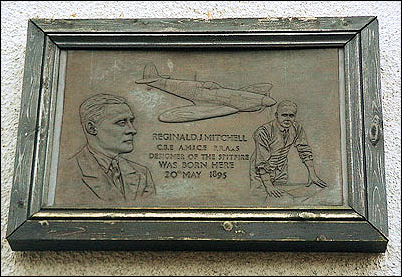 Plaque on the house where Mitchell was born
Reginald J Mitchell
CBE AMICE FRAS
Designer of the Spitfire
was born here
20th May 1895
Reginald Joseph Mitchell (1895-1937) was born in Butt Lane, near Stoke-on-Trent, Staffordshire. He trained as an engineer then joined the Vickers Armstrong Supermarine Co. in 1916, rapidly becoming chief designer.
He designed sea-planes during the 1920s and early 1930s, and from one of them, the Supermarine S6 which set speed records and won the Schiedner trophy in 1931, he developed the Spitfire. Mitchell did not live to see the success of his Spitfire in combat in World War Two.

Reginald Mitchell's Birthplace, Butt Lane
pen drawing by Neville Malkin - February 1976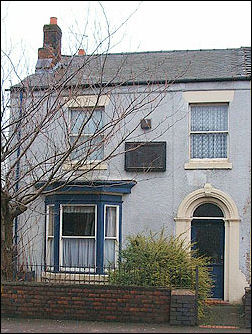 Reginald Mitchell's house
115 Congleton Road, Butt Lane.

"Reginald J. Mitchell, designer of the famous Spitfire, was born in this house in Congleton Road, Butt Lane, on May 20th, 1895. His father, Herbert Mitchell, was a Yorkshireman and a teacher by profession who had settled in North Staffordshire after marrying a Potteries girl.

Not long after the birth of Reginald, the eldest of five children, the family moved from Butt Lane to a house in Longton. Young Mitchell then became a pupil at Queensbury Road Junior School, and, later, gained admission to Hanley High School, where all his spare time was spent in constructing and experimenting with model aircraft. At sixteen he left Hanley High and became an apprentice at Kerr, Stuart and Company, Fenton, where he received a thorough training in engineering skills. He supplemented this practical training by part-time study at a local technical college and eventually progressed from the shopfloor to the drawing office.

His enthusiasm for aircraft continued, and, after completing his apprenticeship in 1916, he successfully applied for a position at the Supermarine Aviation Works in Southampton. By 1919 he had become chief engineer and designer; from 1928 until his death in 1937 he was also a director of the company. One of his greatest achievements was the design and development of high speed seaplanes which were successful in the Schneider Trophy races between 1922 and 1931. The trophy was competed for by seaplanes of any nation and changed hands several times until it was won outright by Britain after victories in 1927, 1929 and 1931, when a new world speed record of 340.08 m.p.h. was achieved.

The experience gained from designing this type of aircraft was of considerable help to Mitchell in developing the Spitfire, which was designed in 1935 and first flown in 1936. The Spitfire proved to be the most outstanding single-seater aircraft during the Second World War; the part it played in the Battle of Britain will always be remembered.

After the war it was gradually phased out, but in 1969 the City was fortunate enough to acquire a 1944 Spitfire R.W. 388 Mk. LF 16e, which is now on permanent display in Hanley as a memorial to its designer."

Neville Malkin 18th February 1976

Mural in Longton Shopping Centre - celebrating Mitchell and his Spitfire

more on Mitchell




next: Victoria Hall, Kidsgrove
previous: Talke Cross
contents: index of buildings north of the Potteries



back to "The Grand Tour" index

---