back to "The Grand Tour" index
Neville Malkin's "Grand Tour" of the Potteries
buildings of Smallthorne





next: Bennett home, Cobridge
previous: George Hotel, Burslem
contents: index of buildings of Tunstall and surrounding area

No 52 - Ford Green Hall, Smallthorne
photo of the hall c.1946
Ford Green Hall was commissioned by Hugh Ford, a wealthy yeoman farmer, in 1624.
Ford Green was situated in the ancient parish of Norton-le-Moors and in the early seventeenth century was meadow in the Biddulph valley.
A porch was added around 1630 and brick extensions built in 1728 and 1734. The older building is of wattle & daub manufacture. This was a process using woven twigs and branches together with manure.
The hall was converted into three separate dwellings in the 19th century and occupied by miners. It was purchased by the council in 1946 and opened as museum in 1952.

photo: © The Potteries Museum & Art Gallery
Staffordshire Past Track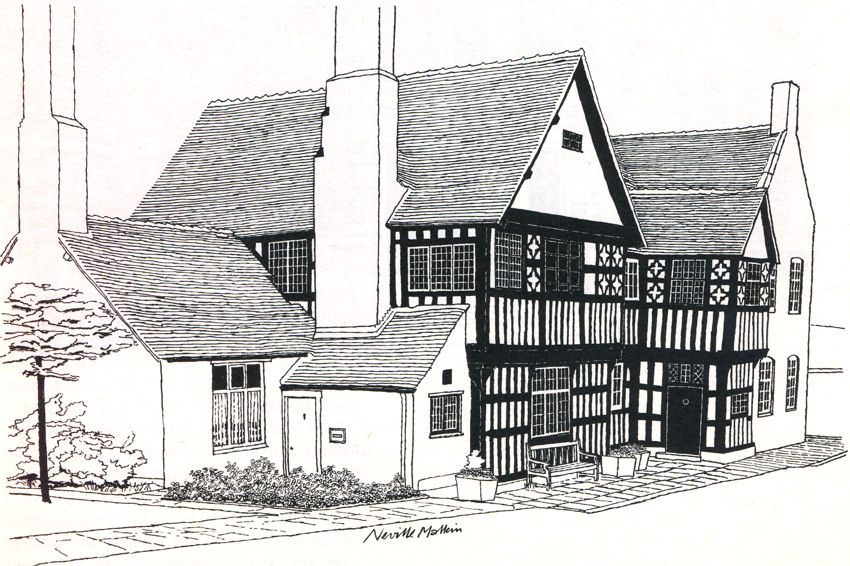 Ford Green Hall, Smallthorne
pen drawing by Neville Malkin - Sept 1974
"A lovely, timber-framed house with a two-bay Georgian addition.
The timberwork is mostly closely set verticals, but higher up also concave-sided lozenges.
The gables are plain white now. - Square brick dovecote"..... Pevsner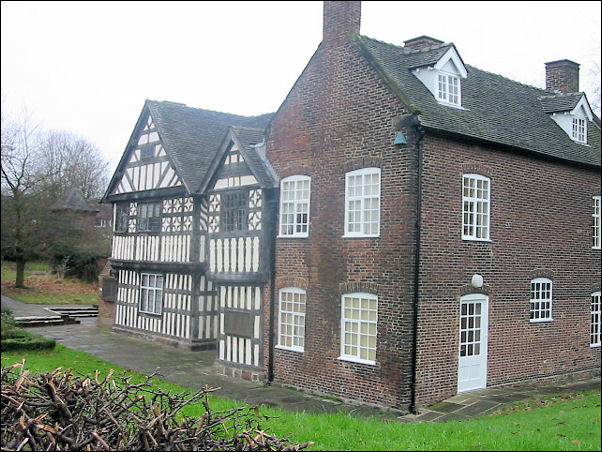 Ford Green Hall, Smallthorne, Stoke on Trent
The hall is a 17th century house and period garden open to the public.
It is furnished with original and reproduction textiles, ceramics and furniture.
photo: Phil Eptlett Dec 2005
"What a wonderful surprise to find a gem of Elizabethan England tucked away quietly at the bottom of Smallthorne Bank! Known as Ford Green Hall, this very fine half-timbered manor house, the oldest house in the city, has survived the centuries of savagery since it was built in 1580. The brick wings were added in 1734, probably as a replacement for some previous building that had been destroyed by fire.

When Stoke-on-Trent brought the Hall in 1946 for £1,100 the interesting exterior timbers were covered with stucco and the building was in a poor state of repair; it had been plagued by floodwaters from the nearby stream. At a cost of £18,000 a culvert was built to prevent further flooding and £9,000 spent on restoring the building to its former glory. The Hall was finally opened as a museum in 1952.

This beautiful building contains a wealth of fine and rare period exhibits that reflect the craftsman's skills and domestic necessities of our predecessors. There are joiners' marks carved on the beams. In one of the bedrooms you will find witchcraft signs inlaid in the original panelling, intended to ward off evil spirits. In the headboard of one of the fourposter beds there is a secret safe concealed in the mass of carving, an ingenious place in which to hide valuables. There are original tapestries, original glass in the windows, a Welsh dresser over 300 years old, a scold's bridle for punishing chatty women, cradles, clocks, chains, tables, and a multitude of very well preserved exhibits displayed in this fine late Tudor house......"

Neville Malkin 4th Sept 1974


more on Ford Green Hall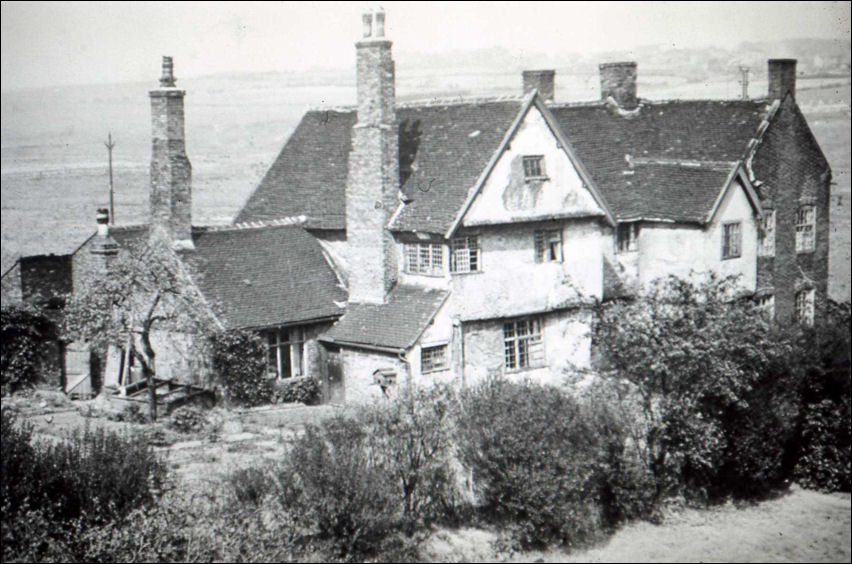 Ford Green Hall prior to restoration
photo: Ewart Morris

a restored Ford Green Hall in the snow
photo: Ewart Morris




next: Bennett home, Cobridge
previous: George Hotel, Burslem
contents: index of buildings of Tunstall and surrounding area




back to "The Grand Tour" index

---