Redware
Redware

As the name suggests, these are reddish-coloured earthenwares, normally without glaze.


This type of ware is often associated with the Elers Brothers (late 17th C), but several potters (including Spode) produced similar wares well into the 18th century.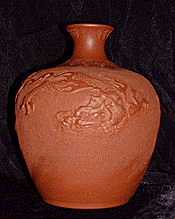 Redware vase. The dragon/serpent design and stippling goes all of the way around the vase.
It is stamped on the bottom with an oval and what looks like oriental writing inside.
It is approx 7 1/2 inches tall.

questions / comments? email Steve Birks steveb@netcentral.co.uk