Pre-Roman:
Before the Roman occupation and settlement of Britain, the area to be later known as North Staffordshire was home to the Cornovii tribe, with the Brigantes and Coritani close by to the north and east respectively.
The Romans:
As part of their administrative and communications network, the Romans laid down the Via Devana to connect Derventio (Derby) with Deva (Chester).
Locally, the road passed through or near to Uttoxeter, Longton, Fenton, Stoke, Shelton, Wolstanton and Chesterton before continuing to Nantwich and Chester. After the Roman withdrawal, the road system fell into disrepair owing to the lack of a central administration; succeeding generations being less inclined to travel far. The lines of these roads would have been visible for hundreds of years, but in many cases the road building materials were robbed for local building purposes. In places the line of Via Devana, or Rykeneld Street as it was to become, can be seen to this day.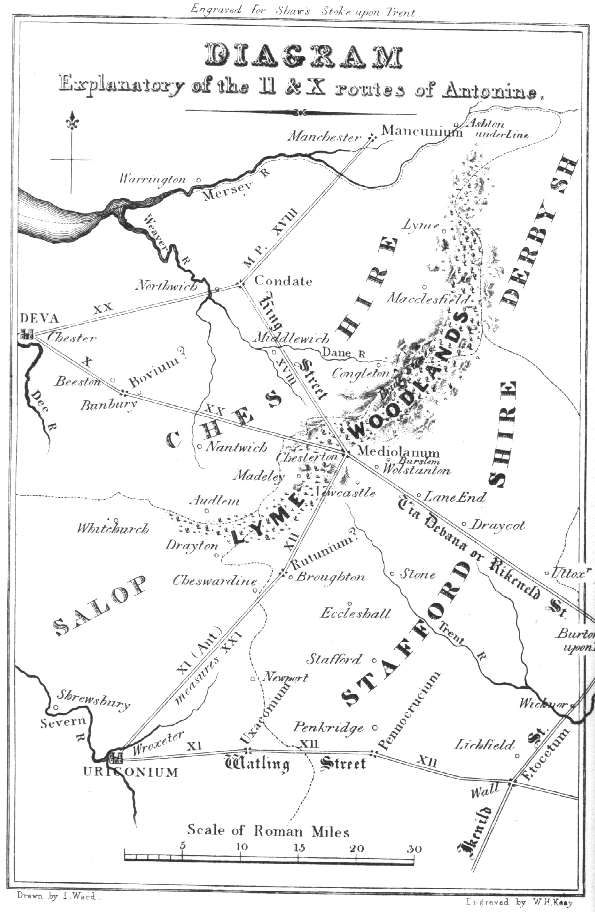 Route of Rykeneld Street - through Lane End, Wolstanton to Chesterton
"The Borough of Stoke-upon-Trent" John Ward, 1843
The Normans:
During the 9th Century, this part of Mercia was well within the Danelaw, but by the Norman Conquest, the indigenous population and the incomers had largely absorbed each other.
During the Wars of the Roses, Staffordshire supported Lancaster in the north and west, and York in the south and east.
During the English Civil War, Staffordshire was for the King at the beginning, but later supported Parliament. Major General Thomas Harrison from Newcastle-under-Lyme has long since passed into local history as a signatory to King Charles's death warrant.




next: the early years 1750 onwards
previous: introduction
---