A photo walk around Ash Hall, Werrington Stoke-on-Trent
Job Meigh & the Ash Hall Estate
location 1 on the map |tour map|
The Lodge to Ash Hall

The first estate building was the entrance lodge to the carriage drive off the Hanley-Cheadle Turnpike Road (now Ash Bank Road). It was built at the same time as Ash Hall and was occupied by 1841.

The architectural style was identical to that of the Hall, of the same local ashlar stone, with a slate roof, and elaborate verge parapets. However the original building contained just two rooms and a tiny storeroom at the rear. Next to it was an ornate set of black and gold gates fronting a red gravelled drive flanked on either side by monkey puzzle trees.

Between 1849 and 1857 Job Meigh rebuilt or improved many of the estate buildings which were virtually all constructed in the local sandstone. These improvements included an extension built on the rear of the entrance lodge.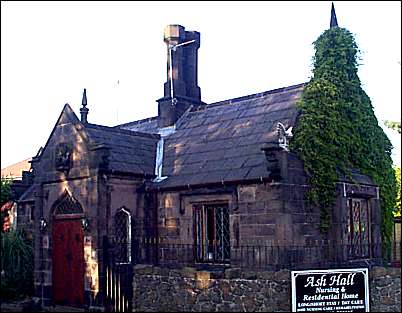 The Lodge on Ash Bank road
The entrance to Ash Hall (which is now (2000) a nursing home)

detail of the crest on the lodge

photos: July 2000
---
In 1841 the lodge was occupied by Joseph Weston, coachman and groom at Ash Hall, and the lodge was the home of a succession of coachmen in the nineteenth century. (However, in 1851 it was occupied by the estate gardener — see below.)
1851 census for Ash Lodge:
| | | | | |
| --- | --- | --- | --- | --- |
| Name | Marr | Age | | Birthplace | Occupation |
| Samuel Beech | Married 30 | Head | Cheshire, Wenbury | Farm Labourer |
| Ellen Beech | Married 30 | Wife | Cheshire, Wenbury | |
| Sarah Beech | Single 15 | Visitor | | Servant |
(N.B. In the Bucknall parish register on the 17th of August 1851, Samuel Beech is described as a gardener.)
1881 census for Ash Lodge:
| | | | | |
| --- | --- | --- | --- | --- |
| Name | Marr | Age | Sex | | Birthplace | Occupation |
| William HISCOX | M 33 M | Head | Melcombe, Wiltshire | Coachman (Dom) |
| Mary C. HISCOX | M 27 F | Wife | Uttoxeter | |
| Willm.G. HISCOX | 6 M | Son | Uttoxeter | Scholar |
| Mary E. HISCOX | 4 F | Daur | Uttoxeter | |
| Emily HISCOX | 2 F | Daur | Uttoxeter | |
| Infant HISCOX | 9 d M | Son | Bucknall | |