A photo walk around Ash Hall, Werrington Stoke-on-Trent
Job Meigh & the Ash Hall Estate
location 10 on the map |tour map|
Ash Estate cottages on the corner of Ashbank road and Salters Lane

In 1854 Job Meigh built a pair of labourers cottages at the corner of Salters Lane and Ash Bank Road.

One of the occupiers was William Bonnell who was probably employed as the estate carpenter between about 1841 and 1871. He originally lived at Lawsons Farm on Brookhouse Lane but by 1871 was living in one of the new cottages.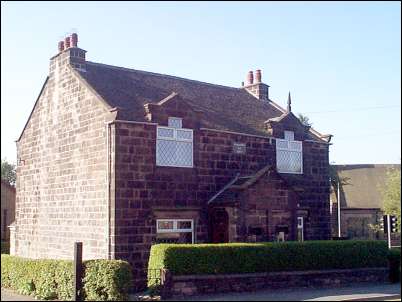 View from Ashbank road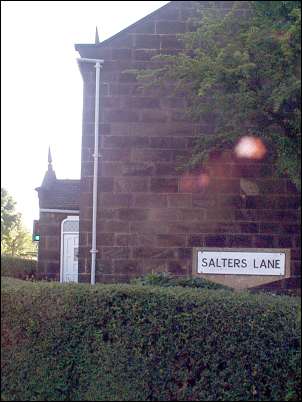 View from Salter Lane
photos: July 2000
1871 census for the Cottages:
| | | | | |
| --- | --- | --- | --- | --- |
| Name | Marr | Age | | Birthplace | Occupation |
| William Bonnell | Married 51 | Head | Kings Bromley | Carpenter |
| Sarah Bonnell | Married 65 | Wife | Staffs, Hanbury | |
| Charles Bonnell | Single 23 | Son | Caverswall | Coal Miner |
| Annie Bonnell | Single 6 | GdDau | Hanley | Scholar |
| | | | | |
| --- | --- | --- | --- | --- |
| Name | Marr | Age | | Birthplace | Occupation |
| George Sillitoe | Married 50 | Head | Leek | Gardener |
| Lucy Sillitoe | Married 51 | Wife | Caverswall | |
| Annie Sillitoe | Single 24 | Dau | Caverswall | Servant out of place |
| Selina Sillitoe | Single 16 | Dau | Caverswall | Servant out of place |
| Mary Sillitoe | Single 14 | Dau | Caverswall | Scholar |
| George Sillitoe | Single 13 | Son | Caverswall | Scholar |
| Charles Sillitoe | Single 11 | Son | Caverswall | Scholar |
| Emma Fone | Single 30 | Visitor | Tunbridge Wells | Servant out of place |




previous: Mettle House Farm
next: 1930's houses