The Middleport Pottery of Burgess and Leigh (opened 1888)


The mould maker




Next: the mould store
Previous: the yard between the buildings

On the tour we are now on the first floor at the rear of the works - the window looks over the canal. This is the mould makers room.

Some ware is made from the clay processed through the pug mill (such as plates and dishes), some more intricate ware such as Toby Jugs, cup handles and the like are slip-cast.

The slip (clay in water) is poured into absorbent plaster-of-paris moulds which soaked up the water, leaving a similarly dried-out, contracted shape.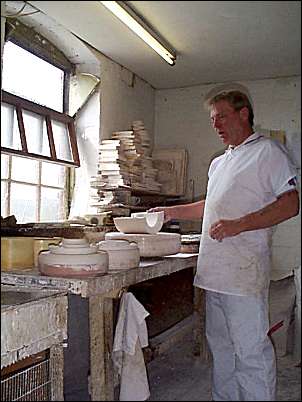 The mould maker with plaster of paris mould halves.

Cup handle moulds being checked for accuracy by producing trials
In his hand the mould maker holds half of a mould
which produces one handle at a time.
On the bench is a mould which produces 12 handles at a time.

The pottery owner needs to keep (and guard) the moulds so that he can reproduce ware later on should a pattern become popular and also to prevent rivals from copying or stealing them.

The next part of the tour takes us to the 2nd floor and the mould store.




Next: the mould store
Previous: the yard between the buildings