The Middleport Pottery of Burgess and Leigh (opened 1888)


The mould casting shop




Next: the sponging shop
Previous: plaster moulds
Having left the mould store on the second floor we move down a flight of stairs back to the first floor and the casting shop.

Here the clay slip is poured into the moulds seen here, the water is absorbed into the plaster mould and when the mould is split a clay replica of the mould remains.

Moulds in the casting shop
These moulds are waiting to be cast, the opening where the slip is poured in can be
seen in the moulds at the front of the picture.
The slip is delivered from the blunger room through the yellow flexible pipes.
A cast plate before firing

Flatware such as plates which are smooth can be produced semi-automatically on a 'jigger',
but a plate with a relief pattern on it such as the one below needs to be cast.

The water has been absorbed by the plaster mould, the mould opened and the clay plate is removed.
This plate is soft and easily damaged, ware at this stage is called 'green'.

The ware now needs to be dried and then fired to produce the porous biscuit ware.

Cast plate with relief pattern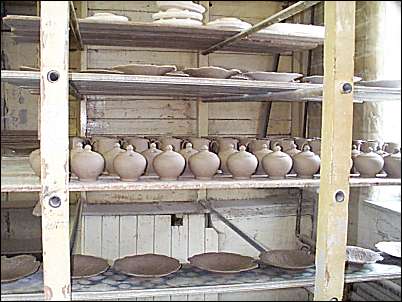 Ware drying in the shop




Next: the sponging shop
Previous: plaster moulds