The Middleport Pottery of Burgess and Leigh (opened 1888)


The offices & Showrooms




Next: the factory shop
Previous: the works entrance

From the Archway entrance we enter the offices.

Over an oak fireplace is a portrait of Edmund Leigh,
the son of the founder, who installed baths
and basins for the workers in the factory basement.
Most pottery works would have a showroom to show prospective buyer the beauty
of the finished ware that had been produced under such arduous conditions.

Shelves of the company's distinctive Burleigh earthenware are displayed in a huge,
glass-fronted cabinet that takes up one wall of the office area.
| | |
| --- | --- |
| The finished Churchill Toby Jug | The finished Art Deco vase |
We have arrived in the owners office and neared the end of the tour.
| | |
| --- | --- |
| The cupboards in the office are packed with notebooks inscribed with copper-plate writing. | One contains company brochures from 1912, and surprisingly a First World War helmet and an unopened bottle of Edwardian cough mixture. |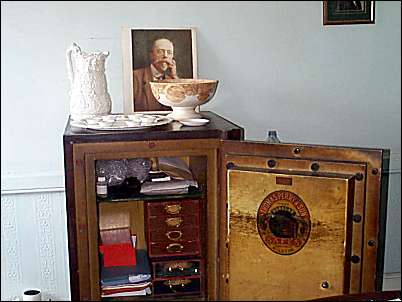 in the old office safe we find a 1901 price list for Burgess and Leigh Ware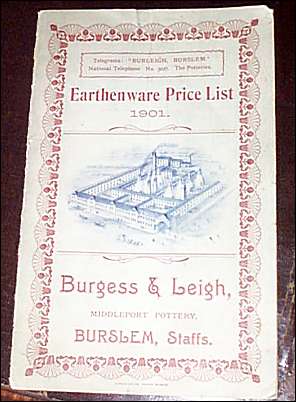 1901 price list for Burgess and Leigh ware
Note the aerial 'view' of the factory with the many bottle kilns