The Middleport Pottery of Burgess and Leigh (opened 1888)


The remaining bottle oven




Next: the flint and feldspar used in pottery manufacture.
Previous: the view of the mangle (drying tower)

In the heyday of the pottery industry there were up to 4,000 bottle kilns in Stoke-on-Trent with as many as 2,000 still standing in the 1950's. The Clean Air Act sounded the death-knell for the smoky, coal fired oven. There are 46 still standing today - none are in operation and all are listed buildings.

Of the ten original coal fired ovens and kilns at the Middleport Pottery only this one remains, it survived because part of the kiln forms the wall of the factory.


the drying mangle and the bottle oven
"ranges of buildings running back from its extremities and enclosing a large space of ground crossed
with several parallel lines of buildings, enclosing spacious courts or yards, in which the kilns are conveniently built."


plan of the original layout of the works - the one remaining oven is indicated in red

originally there were three biscuit ovens and four glost ovens
as well as hardening kilns


the bottle oven at the Middleport Pottery
photo © Chris Oldham

the huge size of this bottle kiln dominates the picture
the bands around the furnace are called BONTS and were designed to strengthen the oven as it
exapnds and contracts during firing
the damaged brickwork on the right is where the adjoining oven originally was

The outer part, which is bottle shaped is known as the HOVEL.
- the hovels could be up to seventy feet tall. The hovel acts as a chimney; taking away the smoke,
creating draught and protecting the oven inside from the weather and uneven draughts.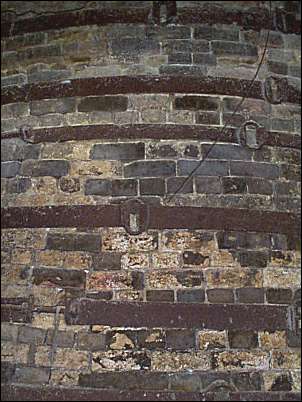 The inner part is the kin proper.

It is a round structure with a domed roof, the CROWN, and its wall are approximately one foot thick.
Iron bands known as BONTS, set about twelve inches apart, run right round the circular oven
to strengthen it as it expands and contracts during the firing.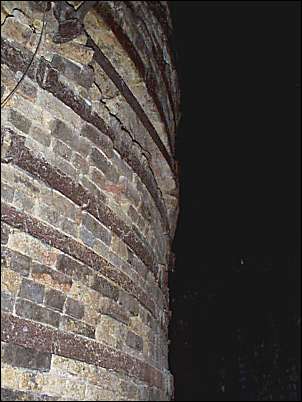 Next: the flint and feldspar used in pottery manufacture.
Previous: the view of the mangle (drying tower)