A photo walk around Cobridge, Stoke-on-Trent
Cobridge: A Victorian Suburb
Top of Waterloo Road
location 3 on the map |tour map|




next: Brownfield Terrace
previous: Raven public house

Picture through the decades
this photo at the top of Waterloo Road shows the changing decades.
There is a water trough for the horses after the long climb up from Hanley. Also traffic light controls, telephone junction box, air pollution monitor. Also visible are the posts for street lighting and also close circuit television camera.
---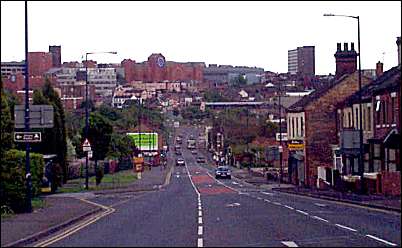 View down Waterloo Road towards Hanley
To the left is the sign for Churchill Pottery and Sadlers.
On the skyline to the left is St. John's Church, in the centre is the Potteries Shopping centre and to the right Blackburn House.

photos: 2001




next: Brownfield Terrace
previous: Raven public house

---
06/12/2001