A photo walk around Cobridge, Stoke-on-Trent
Cobridge: A Victorian Suburb
The New Queen public house
Arnold Bennett's home
location 9 on the map |tour map|




next: more housing on Waterloo Road
previous: Typical Victorian Housing

The New Queen
previously named "The Queen" - on the 1878 OS map it is shown as a Hotel with a bowling green behind
The land of Henry Meakin's estate was divided into building plots and these were offered for sale by Charles Butters at the Queen's Hotel, Cobridge, on 4 March 1879.
---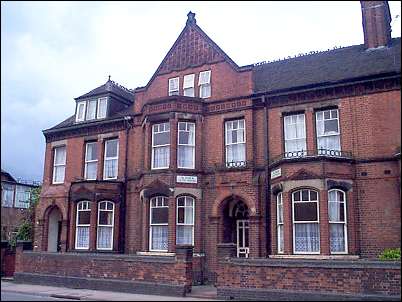 Arnold Bennett's home No 205 Waterloo Road
Enoch Bennett, the father of Arnold Bennett, had bought a building site on Henry Meakin's estate for £200 in 1879 where he built a house at a cost of £900, No 205 Waterloo Road. This is a large three-storey red brick house with a façade much embellished with terra cotta. It has two bay windows at the front and six bedrooms.
There is no information about the architect but there is a good possibility that it was designed by George Ford, who was living on the other side of Waterloo Road.
---
photos: 2001
The Bennett family were recorded in the new houses in the 1881 census:
1881 census:
Dwelling: 205 Waterloo Rd
Census Place: Burslem, Stafford, England
| | | | | |
| --- | --- | --- | --- | --- |
| Name | Marr | Age | Sex | | Birthplace | Occupation |
| Enoch BENNETT | M 37 M | Head | Burslem | Solicitor |
| Sarah A. BENNETT | M 40 F | Wife | Mottram, Cheshire | Solicitors Wife |
| Enoch A. BENNETT | 13 M | Son | Hanley | Scholar |
| Frank C. BENNETT | 12 M | Son | Hanley | Scholar |
| Fannie G. BENNETT | 11 F | Daur | Hanley | Scholar |
| Emily V. BENNETT | 9 F | Daur | Hanley | Scholar |
| Eliza Tertia BENNETT | 8 F | Daur | Burslem | Scholar |
| Septimus A. BENNETT | 4 M | Son | Burslem | Scholar |
| Emily DURBER | U 23 F | Serv | Burslem | General Domestic Servant |



---




next: more housing on Waterloo Road
previous: Typical Victorian Housing

---
16/01/2002