Pitts Hill on the Potteries Loop Line




click the "contents" button to get back to the main index
next: Tunstall on the Loop Line
previous: Goldenhill on the Loop Line
Historian Fred Hughes writes....
Former Loop Line driver/fireman Paul Nutty negotiates the familiar descent to the level of Pittshill Station. But oh my goodness, what a change awaits him.
"Oh dear," exclaims Paul, "But I just can't get my bearings here at all!"
Truth is both of us are lost in the labyrinths created by the layout of the new Tunstall Bypass.
"I can guess where the line dropped into Pittshill Station at the bottom of Furlong Lane and St Michael's Road. But it's all been distorted and there's nothing to indicate where the former railway was," the 84 year-old Kidsgrove resident puzzles.
New trails have been hewn from the landscape diverting the greenway from the original Loop Line and the effect has been to confuse the once-familiar infrastructure. To accommodate foot travel, no-nonsense steel-lined tunnels have been sunk into the countryside. While we scratch our heads looking for a way to cross, Paul and I are joined by fellow-traveller Graham Cartwright.
"Lost?" enquires the 73 year-old Tunstall resident. "Everybody gets lost here the first few times," he chuckles. "Come with me, I'll show you the way across."

And so we set off through the echoing subway to emerge into a moonscape of virgin soil shaped by uninspiring contours. High banks of freshly-sown grass, dotted with the odd sapling, slope inward to collect water in three man-made lakes forming overflow reservoirs from the Clanway and Scotia Brooks.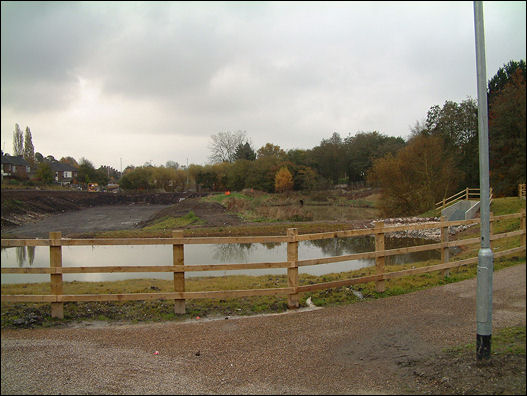 the loop line at Pitts Hill - looking towards Tunstall
one of the three man made pools
Once this was an adventure playground for local children as they played in the abandoned workings of coal mines they called 'bomb holes' owned by wealthy industrialists.
"It was quite a dangerous area at one time," says Graham. "But of course kids don't know danger. They were actually colliery foot trails; and I know to the location of three of them even now."
Graham was brought up in Goldenhill and recalls the Loop Line Station in Colclough Lane.
"Most families used it regularly," he continues. "I remember we always went from Goldenhill to seaside holidays. We'd travel to the west coast resorts along the Loop Line into Stoke or Kidsgrove joining up with the excursions. When I was young we'd often go to dog racing and speedway from Goldenhill and Pittshill to Manchester's Belle Vue.
Mind you the last journey I made on the Loop Line wasn't much fun. It was when I was called up for my National Service. I caught the Loop Line train where there were already some young lads bound for the same destination. By the time we got to Stoke Station the platform was full of 18-year-old lads nervously clutching their little brown cardboard suitcases for the train to Lichfield Barracks and our basic training."
Graham also recalls the signalman's house that sat behind Pittshill's northbound platform.
"This chap had a big garden with an orchard, and long rows of vegetables. A lot of families bought fruit and veg off him. That's how it was then."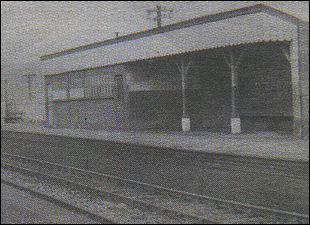 Pitts Hill Station in the 1950's
photo: The Sentinel Newspaper
At last we begin to get our bearings as Graham guides us through the cavernous levels below the busy link of the Tunstall Bypass. As we do he points out a pair of locomotive wheels at the side of the path.
"These wheels replaced a couple that were removed from the same spot in 2005," he says. "An earlier pair was taken from an engine that ran on the Loop Line. They took them away to reconstruct a similar one in a railway museum."
Paul recalls them well.
"They originally came off the regular Loop Line tender engines," he says. "And I remember now – this is where Pittshill Station was. In wartime we ran these trains to the munitions factory at Swynnerton. We'd started at Goldenhill picking up workers, mainly women, from every station to Hanley before driving non-stop via Stone and a purpose-built line direct to the munitions factory. After dropping the early shift off, we took the night-shift workers back to Silverdale. I can tell you it wasn't a popular shift as we had to book on at 3am."
Enthrallingly Paul describes overcrowded trains steaming through a Potteries landscape that never seemed to go to sleep. The length of these trains was confined to a maximum of four carriages.
"This took account of the span of platforms and the circuitous line," he says. "The two stations, Goldenhill and Pittshill, were fairly quiet by industrial standards. But between Pittshill and Tunstall there was another station called Newfield. This was a spur running north from Tunstall sidings passing over a bridge in Furlong Road to the wharfs at Newfield."
Historian Steve Birks recalls this line.
"It was a link that was used only for freight traffic," he confirms. "It left the Loop at Tunstall on a steep climb cutting between Clanway Street and Greenfields Road before halting at a wharf south of Adams Avenue. These yards overlooked Clanway Fields where a short distance on are the northern intersections of the Tunstall Bypass. But all of Tunstall has changed. It's as though industry had never existed here.

We'll see this dramatically when we arrive at Tunstall Station next week."

more on Goldenhill and Pitts Hill on the loop line