Pall Mall, Hanley
London locations were used to symbolise local pride




click the "contents" button to get back to the main index & map
previous: The Bridle Path, Dresden
next: Paradise Street, Tunstall
Historian Fred Hughes writes....
The clock over the door of Café Bon Appetit stopped at 1.46 precisely. What the significance of this is I do not know. But many clocks stop at odd times. Sometimes a stopped-clock represents an event of historic proportions, say when the World Trade Centre was attacked at 08.46 and 09.03, or at 08.15 as the first atom bomb struck Hiroshima. This one in Hanley's Pall Mall stopped because it never started. That's probably because it's a painted advert that simply says 'it's time for coffee'.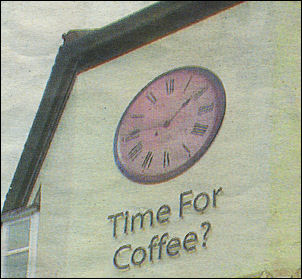 "Sometimes it's very quiet down here," says café owner Karen Harrison. "I've run the sandwich and espresso bar with my husband Ian for four years. Yes we're in the Cultural Quarter but it seems that it has never taken off as planned. The link to culture you might say has never been made. Shops are going in and out of business all the time. It's always been hard work for us and the council can be quite unsupportive. A lot of my customers are the crews that come with the theatre productions. The other problem is there seems to be more than enough coffee shops in Hanley – too many probably."
I can sympathise with Karen, for like her clock, maybe time has stood still here. The sun is shining but most people hurry by on their way to town or on their way out of town. I've come to find a street on my list of lost roads called Pall Mall. It's here alright, but for a city-centre street it's very quiet. Some men scurry around a huge pantechnicon at the back of the Regent Theatre. It's the middle of the day but little else is moving. Luckily I've got historian Steve Birks to keep me company.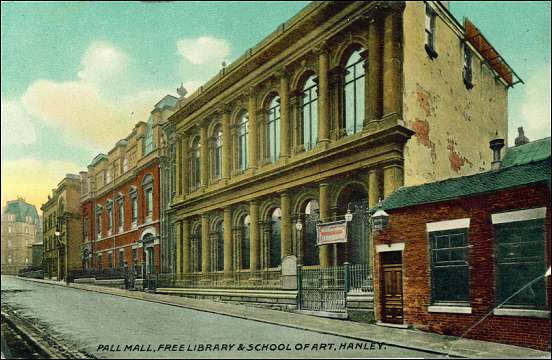 This picture looks up Pall Mall towards Albion Street
the Town Hall can be seen on the left of the picture at the very end of Pall Mall
On the right the first large imposing building was the Museum and further up the road was the free public library. Both these buildings were demolished in the early 1970's.
---

"Although it's a deserted street now Pall Mall was once a busy place housing a large number of important public buildings like the library, the central museum, the School of Art, the Mechanics Institution and the Theatre Royal," he says. "Hanley people were so proud of the spacious and well paved streets lined with elegant public offices that they named them after London locations, Pall Mall, Cheapside and Piccadilly. Early maps show Pall Mall to be a much wider thoroughfare than its neighbours. It travelled straight from the town hall in Albion Square across Piccadilly into Marsh Street. It's where the civic fathers chose to quarter the buildings that defined Hanley's cultural status."
This then was the cultural quarter of Victorian Hanley. In addition to Steve's list of civic buildings the Theatre Royal stood out as a special place. Today it's a nightclub and bears no resemblance to its former incarnation as Stoke on Trent's premier playhouse where queues snaked around the corner to see classical and popular shows.
"The Theatre Royal had a chequered life," says Steve. "Built in 1871 it replaced an existing playhouse in Brunswick Street known as the Royal Theatre and People's Hall. This theatre was considered dingy and inconvenient so they built the new one facing into Pall Mall with the stage door in Brunswick Street. It was enlarged in 1888 and partially reconstructed in 1894. Then it famously burnt down in 1949 when the Sadler's Wells Ballet Company was performing here. After a couple of years lying derelict it was rebuilt. But fashions change. By the 1960's it had become a Bingo Hall and in 1981 that closed. However it was rescued for a short time in 1997 opening for its last spell as a theatre under the management of local entrepreneur Mike Lloyd. But it was a short-lived venture."
These days many of the imposing buildings along the south side of the grand mock-Regency street have been demolished. Some have been replaced by mismatched expediency structures. Others have been replaced by car parks.
"I think it's a shame that a car park stands on ground that once housed these important cultural edifices," Steve continues. "The Mechanics Institution was founded originally in nearby Frederick Street to promote learning among the working classes with lecture rooms, a library of 1,500 books and a science laboratory. All these facilities came under one roof in the new building in Pall Mall in 1887 when the library was increased to 8,185 books. Its architecture was impressive to say the least with neo-classical stone dressings with Doric pillars and cast-iron railings and gate-piers."
In the meantime a brand new museum had also been built into this inspiring row. At the time of Federation in 1910 there were four separate museums in Stoke on Trent which were subsequently shut-down and centralised in Pall Mall. This grew to accommodate Stoke on Trent's central art gallery making Hanley the physical centre for a wide range of educational services and studies. But in 1954 structural defects were discovered in the buildings. And so a new site was found on the former Bell Pottery just down the road in Broad Street. It was here that a new museum and art gallery opened in 1956. Today's Potteries Museum has been extended into a facility more than six-times larger than the original and is now universally considered to be one of the most popular and highly respected resources in the country.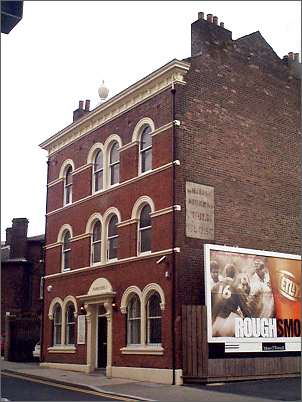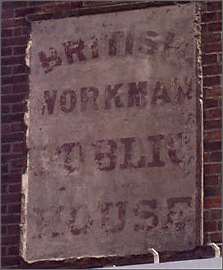 But there's still one interesting building left in Pall Mall near the top by Albion Street where a faded notice on the gable end announces it was once the British Workman Public House.
"This is not to say it was a pub," Steve informs me. "Each of the three leading political parties had meeting rooms. The Liberal Club was in Percy-street, the Labour Party HQ was in Glass Street and the Conservative Workingmen's Club was this one in Pall Mall."
So, as Hanley continues to evolve, perhaps now's a good time to observe that culture is only as worthy as our involvement and contributions to it; otherwise it may perish in unvisited byways like Pall Mall.
---

more on Pall Mall