Cobridge - 'the Victorian suburb en-route to Burslem'




click the "contents" button to get back to the main index & map
next: Packhorse Lane - the lifeline of the Potteries
previous: the changing face of Cobridge

Historian Fred Hughes writes....
Had they been about today the Audley family would have been as rich as the Dukes of Westminster. Wealthy beyond belief for his times, the richest of these conquering descendants from Normandy was Henry Audley who founded the Cistercian abbey at Hulton. Sponsoring the hooded brethren was the aristocratic method for making sure the stairway to heaven lay unobstructed.
"Throughout the seasons from 1223 until 1539 the abbots of Hulton would dispatch teams of monks to work the land that Henry had donated," says historian Steve Birks. "And there was plenty of it. One of these farms was established two miles away at Rushton Grange, a place these days we generally call Cobridge."
That route would have crossed the Trent travelling uphill through Birches Head and Sneyd Green before descending along Sneyd Street.
"Fortunately we can still follow this path," continues Steve. "Towards the Cobridge side it passes by the Raven pub along Grange Street, over Waterloo Road and on to the council estate where the abbey farm buildings were once situated."
But a nearby ancient road can also be followed. Long before the Audley's the whole of the western side of the ridge from Chell to Hanley was covered in woodland. This was part of what was known as the New Forest that stretched from Tunstall to Tixall. We can still see concentrations of it in such places as Moddershall.
"There is evidence that the Audley's hunted wild boar and deer along the ridge particularly when the policy of disafforestation began under King John in 1200," says Steve. "By this time there was probably a principal path that travelled through the forest from the Raven along Elder Road and Nile Street crossing by St John's church to join other western routes to Heleigh where the Audley's constructed their castle in the first quarter of the thirteenth century. Names of modern streets – Grove, Elm and Hawthorn – indicate the once bucolic state of the land."
These modern-defined streets originate from the spine of Waterloo Road. Demographic analyst Elizabeth Hughes, points out some of the subsequent changes as urbanisation took hold to transform the landscape.
She tells me, "In 1815 major road improvements resulted in the availability of building land. Waterloo Road was specifically designed to link the towns of Hanley and Burslem, removing the need to use the convoluted lanes. In the late-Victorian period this land became a desirable suburban location for aspiring middle-classes. By 1900 Waterloo Road hosted a settlement of superior Victorian houses while the streets to Elder Road became structured terraces with rear gardens and small walled front courtyards."
These conservative settlements were paid for with new money as the middle-classes put distance between themselves and the hoi polloi. The fine houses came with better services and leisure facilities. Cobridge had its own railway station and later a pleasure park with tennis courts.
"Post war housing needs however posed different problems," continues Elizabeth. "The shortage of social housing in Stoke on Trent saw Cobridge becoming a multi-occupancy bed-sit district. Indeed there was a notable incident of squatting in 1959 when two families occupied the six-bedroom Victorian house at 205 Waterloo Road. This was the former home of the writer Arnold Bennett. It took almost two years to relocate the squatters into council houses."


Arnold Bennett's home No 205 Waterloo Road
Alongside Cobridge Park Elder Road gives way to Nile Street and Hot Lane.
"Nile Street was an early lane," says Steve. "It had originally been part of Hot Lane but was improved around 1800 possibly as a result of turnpike legislation."
Nearby the potteries of Dudson and William Moorcroft operate as elder statesmen to the studio artists who come to set up business along this stretch of the lane. Some stayed; some companies such as James Cullen's Culinaire Crusader pottery left. But one new studio has recently opened in the former weighbridge offices of the obsolete Sneyd Colliery called Air Waves Studios. Julie Goold is one artist who is based here.
"I was a gilder at Royal Doulton before the redundancies and closure," recalls Julie. "What do you do with yourself when you're over forty and the industry you've spent your life in suddenly collapses? Well I followed my dream. Went to university, got my degree in fine art and joined this workshop along with others in similar situations."
Just as the early potters did in past times Julie joined a community of artists. In this Nile Street art studio you'll find ex-accountant Linda Birmingham, ex-electrician Stuart Porter, former potters like Julie Newbold and ex-Coalport and Spode china flower maker 43 year old Angela Pike.
"I worked for all the top companies but I feel as though I've been released to do what I believe is what I'm good at," says Angela. "It looks as though my efforts have been recognised for I've been nominated for an achievement award."
Another artist based at Air Waves has already made a name for himself with a technique that presents a graphic view of high curves enabling him to capture an angle of 180° delivering an image with barrel distortion.

"It is a process that enables me to capture a storyline rather than a single scene shot," says painter Rob Pointon. "For instance I've been commissioned to reproduce the scene of the recent fire that destroyed some important buildings at Royal Doulton. A 180 degree view lets me portray the scene of activity on that night capturing the fire fighters working at several locations. By using this format I am able to reproduce a documentary of events as well as pinpointing a series of centrepieces, but fluid so that nothing is missed."
And here at the head of Nile Street is where the Royal Doulton pottery stands derelict and abandoned. A place that employed and fostered generations of legendary artists and designers waits in submissive gloom for the bulldozers to move the Mother Town towards its next stage of change.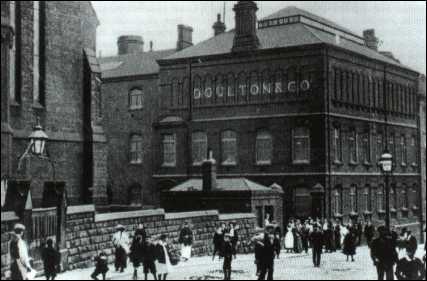 Workers outside the Doulton factory at the turn of the century (1900's)
---

Cobridge - the road from Hanley to Burslem

A walk around Cobridge - a Victorian Suburb

Waterloo Road
next week: Burslem & the packhorse lanes
---




click the "contents" button to get back to the main index & map
next: Packhorse Lane - the lifeline of the Potteries
previous: the changing face of Cobridge