Adams and Greengates, Tunstall - 'this green and pleasant irony'




click the "contents" button to get back to the main index & map
previous: Ladywell, Tunstall
next: James Brindley - canal engineer

Historian Fred Hughes writes....
The name Adam's is one of the oldest in the Potteries and they're still pretty thick on the ground; pick up a local phone book and you'll see what I mean.
"One family from Tunstall goes back to 1299," says historian Steve Birks. "In relation to Stoke on Trent I suppose you could say that's where they all started out from. The early Adams's owned quite a bit of land in Tunstall and had rich relations in adjacent counties. Some family members became potters as early as 1447. But by the 1700's there were Adams master potters throughout the region alongside the names of Spode, Wedgwood, Whieldon and Turner."

Steve tells me that the Adams's were among the pioneers of North Staffordshire's pottery industry.
"They intermarried with other top families so much that their connections were felt in most public services. But their ceramic activity was the mainstay. Even their large potteries until recent times were managed by family members who were 11th and 12th generations in direct descent from the original founder. But it's such a complicated genealogy that the best place to direct you to is Tunstall Park."
Steve leads me to the well-known Adams Clock Tower where the inscription on a marble plaque tells us it was erected in 1907 by the workpeople and firm of William Adams & Co, of Greenfield, Greengates, and Newfield. A number of other commemoration stones on the tower outline the family's history; the earliest mentions William Adams 1307. Then there's landowner Richard in 1487, another William in 1590, and John Adams chief constable of Tunstall Manor Court 1616.


William Adams held lands in Tunstall 1307
"It's difficult to track because they were so productive throughout Stoke on Trent and most took William as their first name," says Steve. "The ones we're interested in are from the Greenfield and the Greengate side. They settled along an ancient lane from Tunstall to Chell known as Furlong Road. It was obviously rural when William Adams (1745-1805) established himself here. But it was his son also William (1798-1865) an important producer of American scenic and historic china who built Greenfield Pottery in 1834. A cousin, yet another William Adams (1745-1805) built Greengate where he produced Queensware, Jasper and Basalt. Both works were carried on by their sons until all the Adams potteries merged in Tunstall under William and Percy W. L. Adams. Some of their designs were still made with their back-stamp under the Wedgwood name, a group they joined in 1966. Are you keeping up?" he laughs.
But that wasn't quite the end of the Adams's. Dennis Handley has lived next door to the Greenfield Pottery for a generation.

"I've lived in the area all my life but moved here 23 years ago to run a shop," says Dennis. "It was a mixed grocery business called Greenfield's Stores, converted back to a house. We had a lot of custom from the potbank but that disappeared when the pottery shut down. I remember it still traded as Adams Greenfield until 1980 before the Wedgwood sign was hung over the door. Work became less and less until it finally closed in 1995. There's just a corner of the wall left now with rusting metal window frames."

The famous Greenfield has indeed become a derelict empty space whose concrete floor is buckling under the strain of wild shrubs as nature forces ways to reclaim the land.

"After the pottery closed it became Pierpoint Coachbuilders, then a warehouse for Stoke on Trent Health Foods," recalls Dennis. "New houses are being built all around here. A row of terraced houses once called Railway View is now a posh cul-de-sac called Tudor View. Behind the factory was Brock's Fields, most of that has been developed for houses; but not so far the pottery site, not yet."
The ubiquitous and prolific potting family has long gone. But I did discover that there was still an Adams family living nearby – 62 year old resident Bob Adams of Clandon Avenue is its head.
"My family moved here in 1982," says Bob. "There were two potteries and our estate lay between them. The Clandon Estate was developed in 1961 and was quite modern for its time although it was built on one of Adams' waste tips and a nearby marl hole. The community amenities have gone as you'd expect. Katie Bean's shop has gone. Another traditional shop JB Leese closed; a chip shop and Heath's grocers. And I remember a woman named Mary Brock who wore a sacking apron. Potbanks came to disfigure pleasant pastures. Now they have gone and new houses are taking their place in regeneration."
One revitalized institution is the Talisman public house. Also built in 1961 it has seen good times and bad. Yet times have never been better for landlord Kevin Johnson.
"I think I'm the longest-serving one-pub licensee in Stoke on Trent," declares Kevin. "I've been at the Talisman twenty-one years, arrived when it was a popular Bass pub but somewhat rundown. Working for Marston's Brewery I've kept pubs all over the Midlands until my wife Vi and I ended up here. The brewery has invested a lot in the Talisman, but so have we. And it's paying off. Nowadays it is a fully-functional licensed restaurant serving a wide range of foods and grills. And upstairs I've introduced a conference suite to accommodate up to seventy people."
But even though the new Talisman has become a popular commercial and enterprise centre Kevin and Vi have not forgotten the local trade.
"I run karaoke and bingo nights; well I've got to do something to counter the government's policy to close all traditional British pubs," he shrugs ruefully.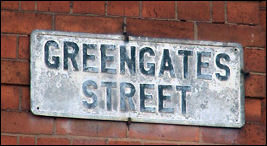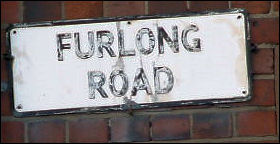 Furlong Road is one of the oldest roads in the district. It was a bucolic lane until the land was blighted by the Adams's potteries. But they atoned for this by calling their works Greenfield and Greengate. A bit of Potteries' irony there don't you think?

---
next week: Boathorse Road, Kidsgrove
---




click the "contents" button to get back to the main index & map
previous: Ladywell, Tunstall
next: James Brindley - canal engineer


more on the Adams family

see more on Tunstall