Meir - 'the changing face of Meir and a pub with treasures aplenty'




click the "contents" button to get back to the main index & map
previous: Lane End
next: Normacot


Historian Fred Hughes writes....

The Kings Arms at Meir has a bit of a lurid past. "I'm told that years ago its reputation was pretty bad," says licensee Hilary Windsor, "But it's okay now. Older customers recall fights going back years when the police had to turn out in force. But it was a popular pub. They say the landlord could take up to £20,000 a week just in drinks."

It's an assertion supported by former Meir policeman Roy Matthias.
"I've heard say that one licensee would line up a hundred pints of beer on the bars before opening the doors on a Sunday dinnertime. That's going some," says Roy
And yet it's such a striking building you can only wonder how it got its bad reputation. The outside of the 1935 pub is pretentious to the point of being extreme, with deep-sloping multi-gabled roofs and high chimneys in a muddled blend of Art Deco utilitarian and hollow Gothic architecture. At the back, an acre of land stretches south incorporating a full-size bowling green.

Kings Arms - Meir
Weston Road - on corner of Uttoxeter Road (A50)
Hilary is delighted to show me her castle, with room after room of oak-panelled luxury, through chambers that are so wide they stand comparison with the finest hotels. "Come upstairs," says Hilary, unlocking a dusty room filled with fabulous junk piled on a broken billiard table. "They tell me Ray Reardon used to play competitions here. It was his favourite snooker venue because it was so big." The best features of the two big bar rooms are the oak-carved fireplaces. It's hard to believe the stories of drunkenness and debauchery associated with the place.
"It is a shame because it really is a tremendous pub," says Roy Matthias. I began my career in the late 1940s and even then there were gangs who'd converge on the Kings Arms.
"I guess it was because of its location as a crossroads and as an outpost where several communities met. There was Coalville Estate, which was then part of Leek. Half a mile south along Uttoxeter Road was policed by Blythe Bridge, and Meir itself by Longton. Over three decades ding-dong bloody tribal battles were the norm at weekends. And there was no proper police station except for the front room of Sergeant Frank Sheppard's house by Penfleet Avenue on Weston Road."
---
David Bradley, aged 72, born in Meir, had never set foot in the pub until we were invited in by Hilary
"Goodness, you can see how impressive it is from the outside but I never knew the extent of the interior furnishings," he gasps. "Just look at the fabulous carvings and the wide staircase. It really is superb."
For the first 20 years of David's life, an equally impressive house in Weston Road was home.
"You could see all along the railway to Blythe Bridge from the front garden," he recalls. "When my father and uncle wanted to travel into Longton they'd watch the train leave Blythe Bridge station and simply walk down to Meir Station in time to catch it. It saved hanging around on the platform."
Historian Steve Birks is fascinated by Meir's location.

"It was always known as a gateway into Stoke-on-Trent," he says. "It straddles a main Roman road from Rocester to Chesterton and at this point forms a crossroads with an old lane from Leek to Stone.

"In 1087 the Domesday Book records Normacot, Weston and Caverswall centring on Meir, which was located on the boundary of the Pirehill and Totmonslow Hundreds. By the 13th century most of this land was owned by the monks at Abbey Hulton who by the grace of Henry Audley were important landowners."

Times change, but Meir maintains its control over the entrance to the Potteries. "Apart from being a turnpike road, a tunnel was dug beneath it to take the main train line from Crewe to Derby," adds Steve. "There was also an attempt to build an international airport here, but the aerodrome closed in 1973."
Back in the bar of the Kings Arms, the regulars are discussing old Meir. "Something important must have changed its course in the 1930s," says one local. "The roads were widened, old slums and pubs knocked down and new properties built. The Broadway Cinema was really impressive."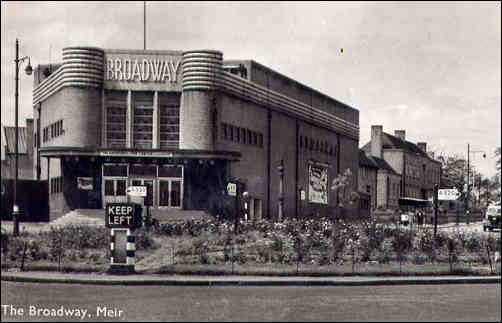 The Broadway Cinema - Meir
Before its reckless demolition in 1971, the double-columned Art Deco picture palace had stood distinctively on Sandon Road corner. According to cinema historian Barry Blaize, the Broadway opened in 1936 with seating for more than a thousand. "I did my courting there," says David Bradley. "I wasn't particularly interested in what was showing rather than it had double seats constructed especially for couples."
It seems that great things were being planned for Meir in the 1930s.
"New industry arrived," says another Kings Arms regular. "Rootes factory manufacturing aircraft parts; Indesit, Creda, Simplex all came and went. The council built new housing estates and added to them after the war.
They say pubs and churches point to the power of a place.
The Kings Arms certainly demonstrates this, for above the grand fireplace in the bar is an oak-carved shield commemorating the Noble Order of the Queen's Garter with its famous motto - Honi Soit qui Mai y Pense, which roughly means 'evil is he who thinks evil'.
You just never know in wild outposts like Meir.
next week: Normacot
---




click the "contents" button to get back to the main index & map
previous: Lane End
next: Normacot