"The first Newcastle canal was a small local affair.
In 1775 Sir Nigel Gresley, Bt., and his son were empowered to make a canal from their coal-mines at Apedale to Newcastle to feed the town with coal. For a period of 21 years after the completion of the canal the coal was to be sold to the inhabitants of the town and of that part of the parish of Stoke-upon-Trent adjoining the Mill Pool at not more than 5s. per ton, and for a further term of 21 years at 5s. 6d. per ton.

Since the beginning of the second term (in 1796) the price in fact had been raised to 6s. per ton.
By 1812 both Gresleys were dead and the coal-mines were nearly exhausted.
In that year new arrangements were sanctioned. Commissioners appointed under the Act were empowered to make bylaws rendered necessary by the 'great riots, injuries, and disturbances' that had arisen at the coal wharf over the delivery of the coal.
For six years from 31 July 1812 coal was to be supplied to Newcastle from the Bignall Hill Mines in Apedale at 7s. 6d. per ton and from Ham's Mines, also in Apedale, at 6s. per ton."
From: 'Newcastle-under-Lyme: Introduction',
A History of the County of Stafford: Volume 8 (1963), pp. 1-8.
---

the full extent of the Gresley Canal

map from: Canals of North Staffordshire
the thin black lines are tram roads leading from the coal mines to the canal - many of the surrounding small pits were connected to the canal

the "Commercial Canal" marked at the top left was never built
at the bottom left is the start of the Junction Canal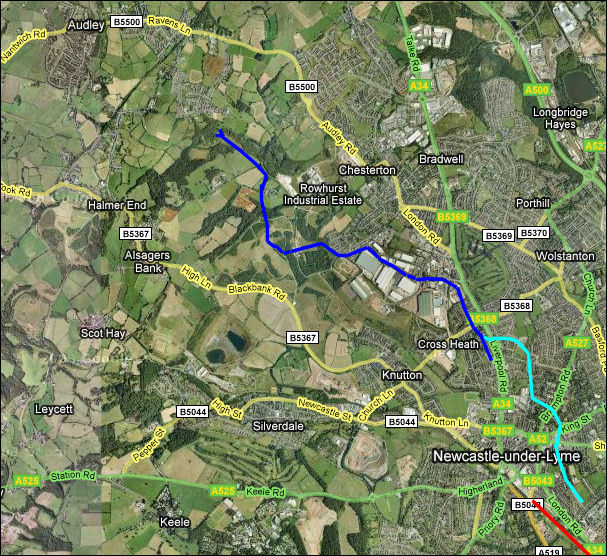 the three Newcastle canals on 2008 Google map
dark blue = Sir Nigel Gresley's Canal (Upper Canal)
light blue = Junction Canal
red = start of the Newcastle-under-Lyme to Stoke Canal