Central Pottery, Burslem
"Central Pottery
This old established pottery was formerly worked successively by Hopkin & Vernon, Hulme & Booth, Thomas Hulme, and Burgess & Leigh, who were succeeded in 1870 by Richard Alcock, by whom the works were considerably enlarged, rebuilt and remodelled.
At Mr. Alcock's death, in 1881, the works passed into the hands of Wilkinson & Hulme and then, in 1885 to Arthur J. Wilkinson.
Earthenware for the home markets was formerly made, but the operations were afterwards confined to white graniteware for the United States. In addition to this. Mr. Wilkinson introduced with considerable success gold lustres on the graniteware. The mark was the royal arms surmounted by the words ROYAL PATENT IRONSTONE and beneath, in three lines, ARTHUR J. WILKINSON. LATE R. ALCOCK, BURSLEM, ENGLAND.
In about 1896, Messrs. A. J. Wilkinson took the Royal Staffordshire Pottery, Burslem ......."

Jewitt's Ceramic Art of Great Britain 1800-1900"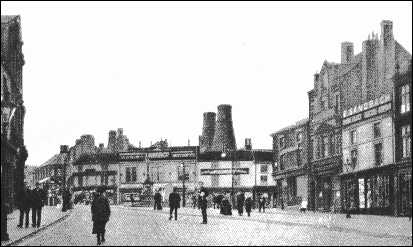 View northwards from the bottom of St. John's Square, Burslem.
This picture shows the closeness of the factories and shops in the centre of Burslem, there are no overhead tram wires indicating that this picture was taken before 1903.
The bottle kilns to the left are the Crown Works and and those to the centre-right are the Central Works.

updated: 2 March 2003